Serving South Florida Since 1975
Don't Let Pests Take Control - We Can Help!

Why should I hire a professional when I can try and do it myself?
Pests are a resilient bunch and are adept at hiding and entering a home in places you would never think. A pest management professional will know where to look for pests and make expert recommendations on what it will take to prevent or eliminate pests. Also, a licensed pest professional is the only person who can apply pesticides.
How long after the initial treatment does it take to see results?
Results will vary according to the type of pest, treatment methods and products used. For example, immediate results can be seen when a yellow jacket nest is removed or treated with a liquid pesticide. However, when using baits for ants, rodents, and termites the process takes longer since the pests have to ingest the product for it to be effective. Your inspector and technician will outline what your expectations for your particular problem should be.
What type of treatment methods does Hoffer Pest Solutions offer?
Hoffer Pest Solutions offers a wide array of treatment options for pests from ants to rodents with our Green Guard program. Green Guard treatments are done using with the latest application techniques and products, and with respect to the environment.
What is the difference between a treatment using baits vs. sprays?
Bait treatments offer consumers peace of mind if they prefer not to have liquid chemicals applied in their home. The type of pest, the severity of the problem and other factors determine the type of treatment we implement.
Why do our pest services focus on the outside of my home when I have pests on the inside?
Hoffer Pest Solutions Green Guard program is designed to stop pests before they get in your home! We create a barrier around the perimeter of your home to decrease an insect's ability to gain entry. However, if pests do gain access we have treatment methods that will effectively eliminate them.
Why do fleas, ticks, and bed bugs require more than one treatment to control?
Fleas, ticks and bed bugs are highly mobile pests and can be carried easily between locations or within an apartment building. Identifying the source of the infestation and taking the proper steps to ensure a re-infestation does not occur can take multiple service visits.
What is the value of having a regularly scheduled pest service even when I don't see pests in my house?
A regularly scheduled pest service will stop pests before they become a problem. It allows our technicians to watch for and spot possible signs of pest activity and act immediately to eliminate any threat. A preventative, pro-active approach to managing pests will keep your home and family safe from annoying and potentially harmful pests.
Is pest management safe for my family and pets?
The products Hoffer Pest Solutions uses to eliminate pests have been extensively tested and are approved by the U.S. EPA, and are applied by highly-trained, certified professionals. We also can recommend non-chemical treatment options including baits, exclusion, and sanitation.
What dangers do pests pose to my family?
Pests can pose a variety of threats to your family or home including food-borne illnesses like

E. coli and salmonella

are transmitted to food by contact with rodents and cockroaches; stinging insect, fire ant and bed bug bites; and asthmatic allergic reactions to cockroaches are some of the health threats pests present. Termites, nuisance birds and wildlife, and rodents can also threaten your home's structural integrity.
What are the most common household pests in South Florida?
The South Florida eco-system yields a wide array of pests that can be a nuisance to homeowners. Some of the most common include various species of :
Ants
Fire ants
German cockroaches
Drywood termites
Formosan termites
Subterranean termites
Yellowjackets
Norway and roof rats
And the house mouse.
Concerned about pests in your home?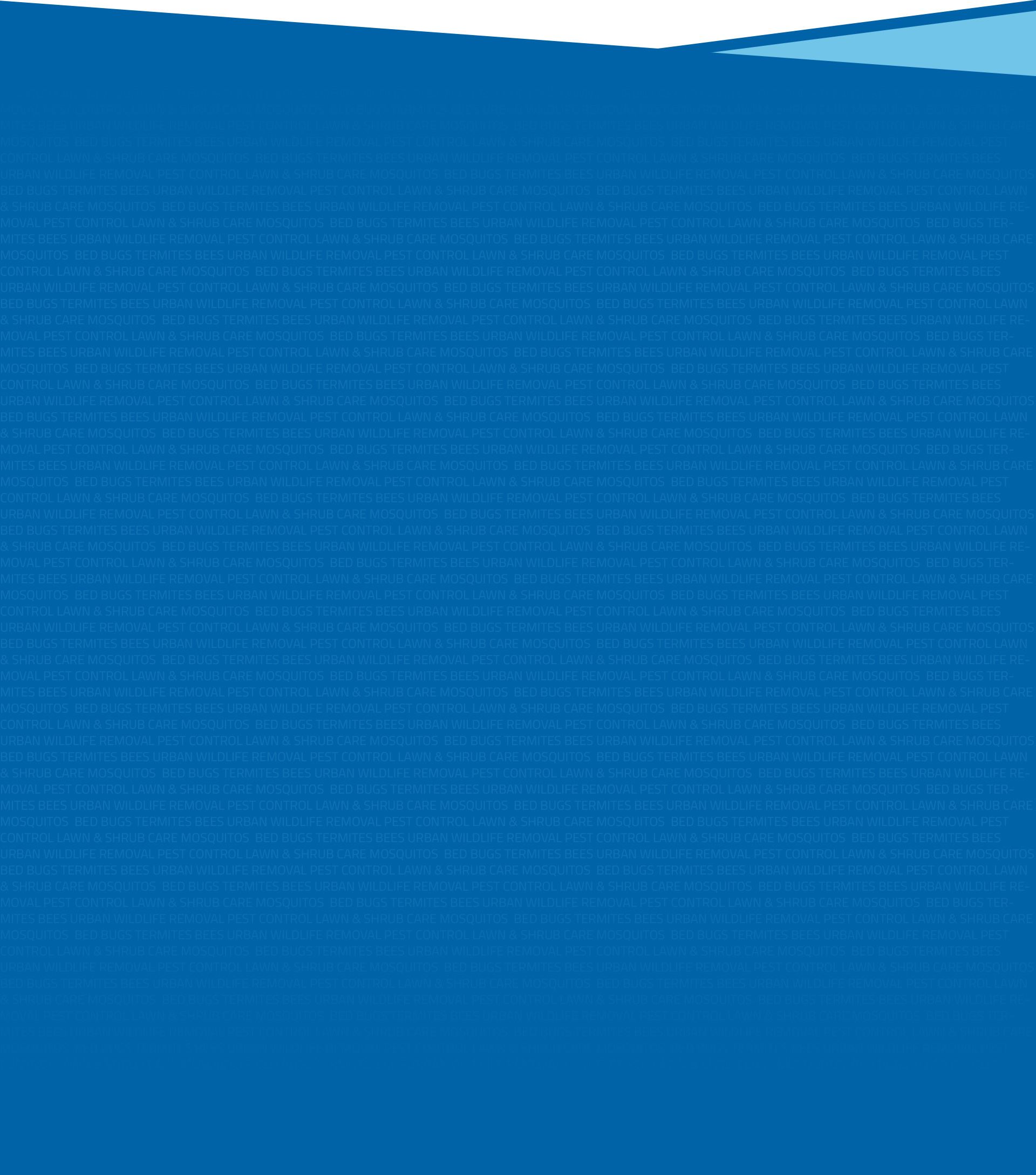 "The Team was great, from Angela in the office who got the ball rolling and worked it all out for us, meeting all of our needs and making sure that we were completely satisfied. Then Raul came 1st the other day, he gave us an inspection and identified some critters we were unfamiliar with and advised us on the proper course of action. (Problem Solved) Next came Kevin today, right on time and he took care of everything. We are sure that all will be well, and we will move on and Continue to see how this relationship develops. I'm sure it will be terrific. So far so good. I see nothing but the best to come as it's been. Keep up the good work. I would highly recommend Hoffer."

Serving South Florida
Hoffer Pest Solutions has been eliminating pests, termites, weeds and disease from homes and lawns in the South Florida area since 1975!

Contact Us Now




Request your free quote today!