Serving South Florida Since 1975
Don't Let Pests Take Control - We Can Help!

Pest Control in Pompano Beach
No matter how many DIY methods you try, you can't seem to keep pests out of your home for long. That's because do-it-yourself methods can provide fast relief from bugs currently living in your home, but they just don't have what it takes to keep them from coming back. What's more, if used incorrectly, DIY pest control methods can put your family and pets in danger. When you need long-term relief from bugs, you need Hoffer Pest Solutions. Our effective pest control services in Pompano Beach keep your home protected from pests like:
Ants
Spiders
Cockroaches
Termites
Bed Bugs
Mosquitoes
Rodents
Wildlife
Stinging insects
And more!
Hoffer Pest Solutions has been providing families like yours with the most effective pest solutions since 1975. As a locally and family-owned business, we understand how important it is for you to keep your home and family safe. That's why we're proud of what we do. Our dedication to our community and homes like yours is what earned us the title of the highest rated pest control company in town, and that's an honor we don't take lightly! When you choose us for your pest control in Pompano Beach, you can expect:
Friendly service from every member of our team, from our office staff to your pest exterminator
If you call us before noon we will come to treat your home the same day
A detailed, thorough inspection to determine what pests are currently plaguing your home
A customized treatment plan designed to fit the needs of you and your family
Affordable pest treatment plans to get rid of pests and keep them out in the future
A 100% satisfaction guarantee for all of our recurring pest services in Pompano Beach
You've got nothing to lose. When you put your home in the hands of Hoffer, you can rest assured knowing we'll treat home the same way we would if it were our own.
Get the relief you need from pests today!
GET YOUR FREE PEST CONTROL QUOTE TODAY!
When the ants come marching in, it can be difficult to get rid of them on your own. The key to being an effective Pompano Beach ant exterminator service is to identify entry points and what's bringing them inside. With our ant control in Pompano Beach, we get rid of your existing infestation and provide our expert advice from ant exterminators on how to keep them from coming back in the future. We protect your home from a variety of ant species including:
Carpenter ants
Ghost ants
Pharoah ants
Fire ants
White-footed ants
And more!
After we've treated your home with our effective ant control treatment, we'll return on a quarterly basis to reinspect your home and reapply your ant treatment if necessary when you sign up for one of our recurring pest programs. If you find ants invading your home in between our visits, simply give us a call and we'll take care of them - at no additional charge to you.
Tired of ants taking over your kitchen?
GET A FREE ESTIMATE AND SEE HOW WE CAN HELP YOU TODAY!
Bed bugs - every homeowner's worst nightmare. Bed bugs carry a stigma with them is just simply not true – even the cleanest, well-kept home can be at risk of a bed bug infestation. With the increase in domestic and international travel, bed bugs are on the rise in the United States. These invasive pests are little hitchhikers and will easily find their way into your home. If you suspect you have bed bugs, it's important to act quickly. Bed bugs spread rapidly throughout your home and can become a much larger issue if left unattended. When you contact us for your bed bug treatment in Pompano Beach, we:
Listen to your concerns and frustrations
Conduct a thorough investigation of your home to determine whether or not bed bugs are plaguing your family
Recommend a treatment plan based on your needs
Eliminate every last bed bug in your home
Don't let bed bugs disrupt your peace of mind. Our trusted bed bug control in Pompano Beach allows you and your family to sleep soundly knowing you're safe from pesky bugs.
Protect your family from biting bed bugs.
GET YOUR FREE BED BUG QUOTE TODAY!
Rats and mice can be cute - but not when they've taken over your home! Rodents slip quietly into your attic, crawlspace, or other dark areas unnoticed, but quickly make their presence known. If you hear scurrying in your attic in the middle of the night, find droppings around attic entryways or in your pantry, or notice chewed wires and cardboard - you might be dealing with a rodent infestation. Rodents carry many diseases that can be transmitted to humans and can also cause serious damage to your home and property if left untreated. When you trust Hoffer Pest for your rodent control in Pompano Beach, our treatments include:
An inspection to determine areas of entry
Sealing the exterior entry points to prevent future rodents from entering your home
Baiting and trapping to get rid of rodents currently inside your home
Ongoing monitoring and baiting for homeowners enrolled in our rodent control program
Our rodent control services eliminate rodents from your home so you and your family can experience the relief and comfort you deserve. Not sure if you have rodents? Give us a call today at 954-945-7979 and one of our knowledgeable team members will be happy to provide you with the information you need.
Kick rodents from your Pompano home.
GET YOUR FREE RODENT CONTROL QUOTE TODAY!
Termites are highly active in Florida and other areas of the Southeast. In fact, 1 in 5 homes is affected by termites each year, leaving homeowners facing up to thousands of dollars in repair bills. Most standard homeowners insurance plans don't cover termite damage because it is considered to be completely preventative. Don't put your home at risk. Avoid unnecessary costs and damage with professional termite control in Pompano Beach.
The Most Effective Termite Treatments
Here at Hoffer Pest, we're termite experts. We know the ins and outs of termite protection, the types of termites that put your home in danger, and exactly how to get rid of them. Whether you're looking for termite treatments for an existing infestation or just want to prevent one from ever occurring, our team of termite exterminators in Pompano Beach is here for you.
During your initial treatment, one of our certified termite exterminators will install the Sentricon System around your home's exterior. Sentricon is the most superior baiting technology available in the industry and provides you with 24/7 termite monitoring and protection. Sentricon will eliminate your existing colony, including the queen, and offers long-term protection to keep them from coming back.
Don't let your home become a statistic. Get the protection you need from termites today.
Protect your home from damaging termites.
GET YOUR FREE TERMITE CONTROL QUOTE TODAY!
Mosquitoes can ruin your time outdoors by forcing you to resort to oily sprays, smelly candles, and other annoying measures to avoid itchy bites. While these bites are uncomfortable, they can be potentially dangerous as well. These relentless pests can carry serious diseases such as Zika or West Nile Virus. If you are tired of letting mosquitoes run your yard, our effective mosquito control in Pompano Beach can help!
Year-Round Mosquito Protection
Our mosquito control exterminators utilize a multi-step process to eradicate mosquitoes and their eggs from your property. When you partner with us, you can expect the following:
A thorough mosquito inspection to gather information about your situation and to identify mosquito breeding grounds around your yard.
Once this stage is complete, our mosquito control exterminators will formulate a custom mosquito treatment plan specific to your yard that includes a top of the line mosquito fogging treatment.
Our mosquito control program also includes recurring, monthly mosquito treatments in Pompano Beach to ensure your yard is mosquito-free at all times.
Additionally, we offer one-time treatments for events should you only need it for special occasions!
100% Satisfaction Guaranteed
We are so confident in our mosquito control services thatwe will even provide a satisfaction guarantee on all of our recurring services. If you are tired of store-bought solutions that don't work effectively it's time to call a professional. Our mosquito exterminators will make certain that your mosquito concerns are a thing of the past. Enjoy your outdoor space again and say good riddance to the incessant buzz of mosquitoes!
Animals have their purpose in the world, but they do not have a purpose in your home. Wild animals carry several diseases that could be harmful to you and your family. Luckily, Hoffer Pest Solutions is here for you when you need wildlife removal in Pompano Beach. With several decades of experience, our technicians are trained to humanely get rid of your wildlife troubles.
Same-Day Service for All Animal Control Needs
When you call before noon, our technicians or exterminators can service your home the same day! Wildlife in your home is something that needs to be solved quickly, so with our same-day service, your home will be protected! Our animal control protects your family from:
Raccoons
Opossums
Foxes
Armadillos
Squirrels
And More!
Pompano Beach Pest Control FAQs
What are the most common pests in Pompano Beach?
Because of the heat and humidity in Florida, you'll most likely find pests that thrive in this environment. While we treat nearly all pests that may invade your home, the most common pests are roaches, silverfish, Subterranean termites, fleas and ants. Many homes also deal with mosquitoes and fire ants across their property.
What's the value in reoccurring pest control services?
A single pest control treatment may eliminate all bugs on your property, however, this does nothing to protect your home from future pests. The benefit of reoccurring pest control treatments is that your home will stay protected from future pest infestations. And if, for some reason, pests do return, so will we, retreating your home to guarantee effectiveness.
How often will my home be treated for pests?
For Pompano Beach pest control, we offer quarterly pest control treatments, meaning that your home will be protected from all the different pests that each season brings. With 4 treatments a year, you can rest assured that your home is fully secured against all general pests.
What is included in our pest control services?
At Hoffer Pest Solutions, all of our pest control packages will protect your home from over 20 of the common household pests, including rodent monitoring and control. From there, our packages will vary depending on the needs of your home. We have packages that include Subterranean termite protection, ant control across your property, and mosquito & fire ant reduction services. All our services include year-round protection and a satisfaction guarantee! Compare our pest control packagesto learn more.
Trust the Exterminators with Decades of Experience
Dealing with pests is tricky, but with the right knowledge and resources, you can experience the pest-free home you deserve. We've been proudly serving our neighbors in Pompano Beach for over 40 years. That means we have decades of experience under our belts and feel confident that we can get rid of pests in your home and keep them out for the long-term. What's more, we live and work in the same area you do. To us, you're more than just an account number. You're family! You'll get a customer experience that big-name brands just can't offer. When you need relief from pests, trust Hoffer Pest Solutions with your pest control needs! Your Local Pest Control Experts
Your Local Pest Control Experts
Hoffer Pest Solutions has serviced the Broward, Palm Beach, & Miami-Dade counties since 1975. Whether you're dealing with roaches, rodents, termites, or bed bugs, there's no one better to do the job than your local exterminators at Hoffer! We are proud to offer same day pest control services when you call before noon.
Hoffer Pest Solutions - Coral Springs Office
Mon-Sat: 8AM-5PM Sunday: Closed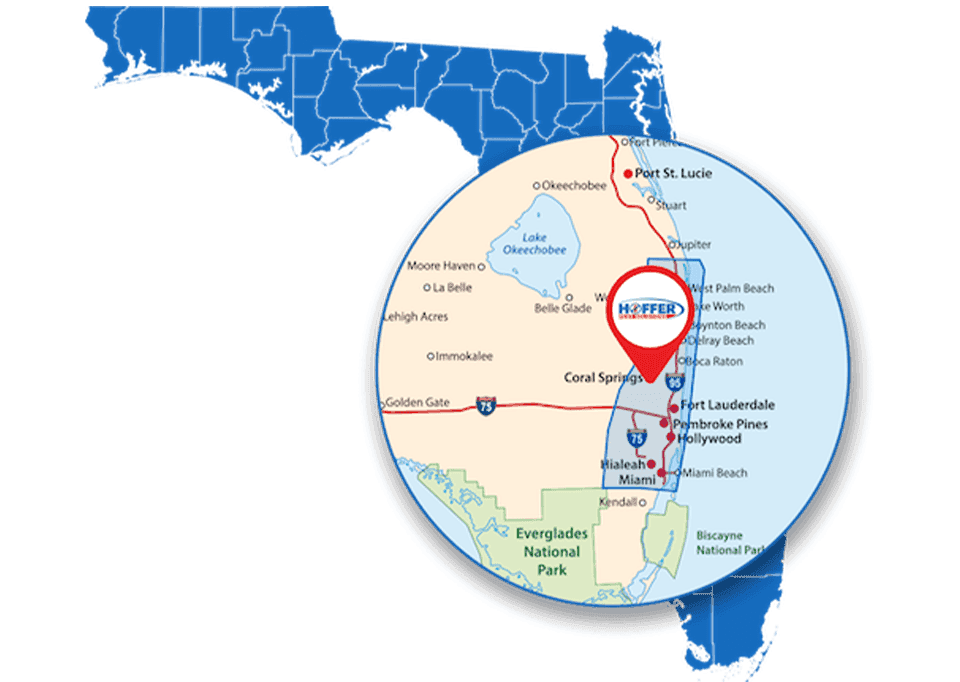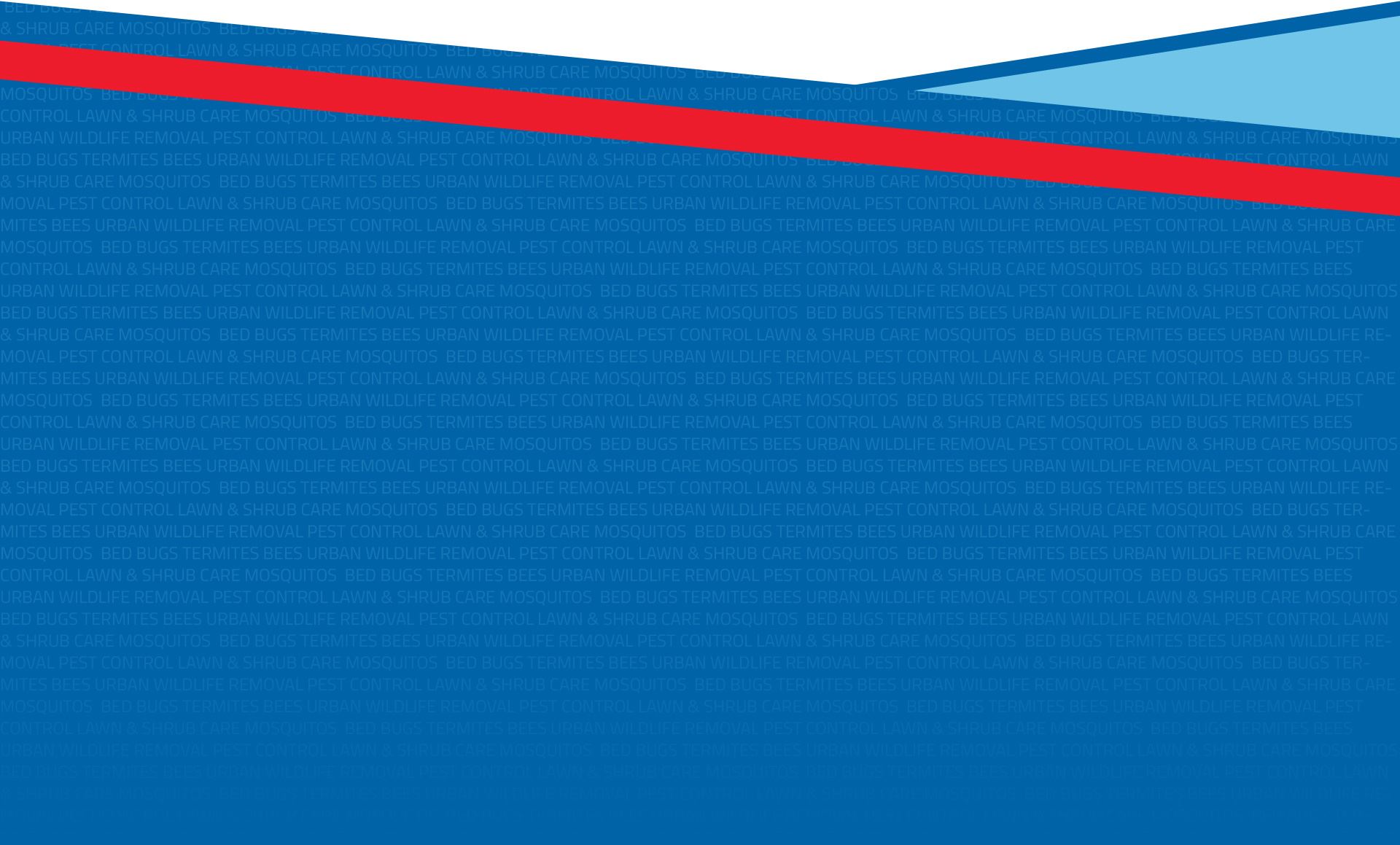 Contact Us Now




Request your free quote today!