Serving South Florida Since 1975
Don't Let Pests Take Control - We Can Help!

Every homeowner has to contend with household pests from time to time, but our treatments are created to ensure that your current pest control woes are your last! Our Plantation exterminators offer recurring pest control treatments for quick relief from household pests like:
Silverfish
Beetles
Cockroaches
Ants
And more!
SAVE $200 ON PEST CONTROL IN PLANTATION NOW!
The trouble with pests is that there are always more than meets the eye--if you've seen one or two, chances are there are many more that are hiding out of sight. During our pest inspections, our Plantation pest control technicians search your home to find bugs wherever they are hiding. We craft a pest control plan customized to the specific threats around your home, keeping you informed and educated all along the way. You can always trust that our team will be respectful, professional – and most importantly, that they'll get the job done right!
Protect Your Home from More than 20 Pests!
If you've noticed a few different kinds of pests in your home, you'll be glad to know that here at Hoffer Pest Control, we offer protection from more than 20 of the most common household pests in Plantation. That means that our recurring treatments get rid of the pests you've seen in your home and plenty more than you haven't noticed yet. No matter the pest, call us before noon and we will come that day to get rid of all your pests. With our Plantation exterminators on the case, bugs don't stand a chance.
GET STARTED WITH A FREE ESTIMATE!
Nobody wants to think about termites invading their home, but unfortunately, both drywood and subterranean termites are common in the Plantation area. Luckily, here at Hoffer Pest Control, we have more than 40 years experience taking care of our neighbors. Our professional termite control services in Plantation include:
A thorough inspection
Complete termite eradication
Friendly customer service
A termite-free home--guaranteed
It All Starts with a Thorough Inspection
The first step in dealing with a termite infestation is to determine the scope of the problem. That's why all of our treatments start with a comprehensive termite inspection. Our technicians inspect your home for any signs of activity and develop an eradication plan that makes sense for you. We keep you informed every step of the way and promise to work with your best interest in mind.
Termites can cause thousands of dollars in damage to your home in just a matter of time, so time is of the essence when dealing with this costly pest. When you call us, we arrive on the scene as quickly as possible. Our treatments take care of both subterranean and drywood termites, both common in the Plantation area. The result is a termite-free home with quick results to minimize potential damage to your house and peace of mind.
Not all things in life come with a guarantee, but we firmly believe that your termite control certainly should! We stand behind every single one of our services 100%. If you find termites in your home after we've treated them, simply let us know and we will happily return to your house to retreat it absolutely free.
REQUEST A FREE TERMITE INSPECTION TODAY!
Nothing ruins a perfect afternoon in the yard like trying to swat away a swarm of mosquitoes. These bloodsucking pests are not only an aggravation, but they can expose you and your loved ones to a range of dangerous diseases, including Malaria, Yellow Fever, Zika Virus, and more. With Hoffer Pest, you can trust that our over 40 years of experience in Plantation mosquito control will keep you and your family safe from these unwanted invaders.
Rely on The Highest Rated Pest Control Around
Plantation mosquito control is a hassle when you're doing it alone. DIY treatments and store-bought quick fixes do little to get rid of these pests, and many can be harmful to your family or the environment. With Hoffer Pest, you'll be relying on the highest rated pest control company in South Florida! With over 500+ reviews and a 4.9 rating, you know with us you'll be getting mosquito control in Plantation from the people who do it best.
Recurring Options for Your Convenience
When you're dealing with mosquitoes, you want straightforward, simple solutions. As a local family-owned company, our team at Hoffer Pest believes in making your Plantation mosquito control as easy and stress-free as possible. For the most comprehensive protection, turn to our recurring monthly Plantation mosquito treatments, which will keep you protected from mosquitoes even during the summer months when they thrive.
CONTACT US TODAY TO BE MOSQUITO FREE!
Getting a good night's rest is crucial to your health and well-being. With bed bugs, that's not possible. These bloodsucking pests can invade both beds and furniture, taking away your peace and comfort and leaving you exhausted and frustrated. If you have bed bugs, look no further than Hoffer Pest Solutions for your Plantation bed bug treatments. As the highest-rated pest control company in South Florida with a 4.9 Google+ rating and over 500 reviews, we'll help you take back your home and get a good night's rest again.
Rely on 40+ Years of Experience
You deserve better than to lose another night's rest to bed bugs. With Hoffer Pest, you'll be working with the people with over four decades of experience in bed bug treatments in Plantation. That's the security you deserve.
We offer a variety of options for your Plantation bed bug treatments, including liquid and steam options, so no matter what your situation, we'll have the solution for you.
Sleep Soundly Again–Guaranteed!
You don't want to waste your time with Plantation bed bug treatments that don't get the job done the first time. DIY tricks and store-bought treatments rarely do much more than delay the problem—and at worse might stain your furniture or expose you to dangerous chemicals! With Hoffer Pest, you'll never have to worry because of our 100% satisfaction guarantee: if your bed bug problems persist after treatment, just give us a shout and we'll be back before you know it to retreat for free! That's how dedicated we are to your peace and comfort. Give us a call today at 954-945-7979 and let us help you take back your good night's sleep!
SCHEDULE A BED BUG INSPECTION NOW!
You love Florida's warm climate—and so do ants! These annoying pests are notorious for invading homes, damaging lawns, and being an all-around aggravation. Though they are small, many species can deliver painful bites and stings that can even trigger allergic reactions in certain individuals. Florida is home to a number of ant species, including:
Fire ants
Ghost ants
Pharaoh ants
Carpenter ants
White-footed ants
And more!
If you're having ant trouble, look no further than Hoffer Pest for you Plantation ant control needs. As a local family-owned business, we take pride in ourselves in delivering quality ant control in Plantation for over 40 years! Call us today at 954-945-7979 and learn how we can help you take back your home from ants!
CLAIM YOUR FREE ANT CONTROL QUOTE!
Same-Day Service for Fast Relief
When ants invade, you want to act fast. With Hoffer Pest, you'll have the benefit of same-day service, meaning you won't have to wait for relief. As the highest-rated pest control company in South Florida with over 500+ reviews and a 4.9 Google+ rating, we have a history of providing Plantation ant control that our community trusts. Even better? That's the Hoffer difference.
SCHEDULE YOUR ANT TREATMENT TODAY!
When rodents invade your home, they make it feel unclean and make you feel uncomfortable in your own space. Instead of trying to battle them on your own, you can rely on our Plantation rodent control to quickly and effectively eliminate the infestation. With Hoffer Pest Solutions on your side, you can stop worrying about what's scurrying around your home.
Rodent Control You Can Count On
We strive to provide the most effective rodent control in Plantation, which is why we've worked hard to develop a plan that works. When you trust us to take care of your home, you can feel confident that you'll be living rodent-free in no time. Our Plantation rodent control includes:
A free inspection from one of our expert Plantation rodent exterminators.
Treatments that are customized to meet your needs.
Traps and bait stations to remove rodents that are already in your home.
Exterior treatments that eliminate entry points rodents use to gain access to your home.
SCHEDULE YOUR INITIAL TREATMENT TODAY
Our Satisfaction Guarantee
Our rodent control in Plantation not only kicks rodents to the curb, but it also makes sure they stay far away from your home. If you do see rodents in your home after our service, simply give us a call at 954-945-7979! One of our Plantation rodent exterminators will return and re-treat the area, free of charge!
Scratching and gnawing noises, faint scurrying, damage to your drywall, droppings, nests—these are all telltale signs that you may have some sort of unwanted animal in your home. While that might seem stressful, and even scary, you have nothing to worry about when Hoffer Pest Solutions is on your side. Our wildlife removal in Plantation is just the thing for you if you're dealing with:
Raccoons
Opossums
Foxes
Armadillos
Squirrels
Don't Risk an Attack, Let The Pros Handle It!
It's easy to think that you can take on a wild animal. After all, it's only a fraction of your size. But it's important to remember that a wild animal is just that—wild. If they feel intimidated or threatened, they'll do whatever is necessary to protect themselves; including biting, scratching, and wreaking havoc on your home in an attempt to escape. Instead of putting yourself at risk for bodily harm and disease, leave the animal removal in Plantation to the professionals. Our team will:
Carefully inspect your home to determine the extent of damage.
Strategically place humane traps in areas where animal activity is present.
Monitor traps for five days, changing them and removing animals from your property as needed.
Answer any questions and address any concerns you have along the way.
We're here to help keep your home safe. Stop putting up with wild animals in your space -- call us today at 954-945-7979 for the best wildlife removal in Plantation!
Trust the Team that Treats You Like Family
Here at Hoffer Pest Solutions, the only thing of higher quality than our treatments is our customer service. You can trust that our Plantation pest control experts will not only provide you with the best possible pest control services near you, but also service with a smile. We treat your home with the safety and well-being of your loved ones in mind. You can rest easy knowing that your loved ones are being protected by the best in the business. Your Local Pest Control Experts
Your Local Pest Control Experts
Hoffer Pest Solutions has serviced the Broward, Palm Beach, & Miami-Dade counties since 1975. Whether you're dealing with roaches, rodents, termites, or bed bugs, there's no one better to do the job than your local exterminators at Hoffer! We are proud to offer same day pest control services when you call before noon.
Hoffer Pest Solutions - Coral Springs Office
Mon-Sat: 8AM-5PM Sunday: Closed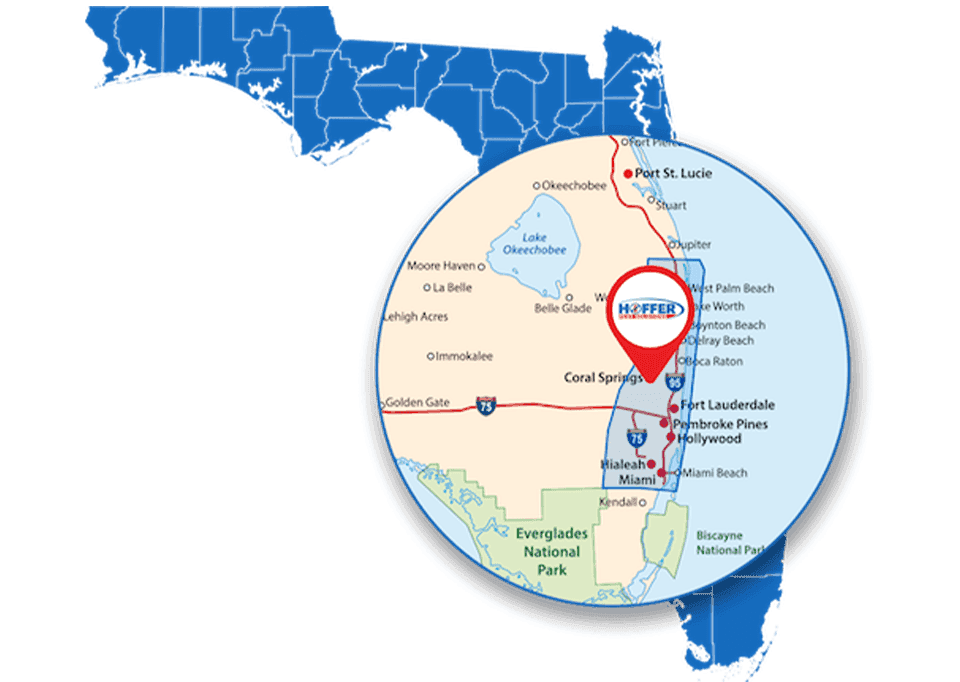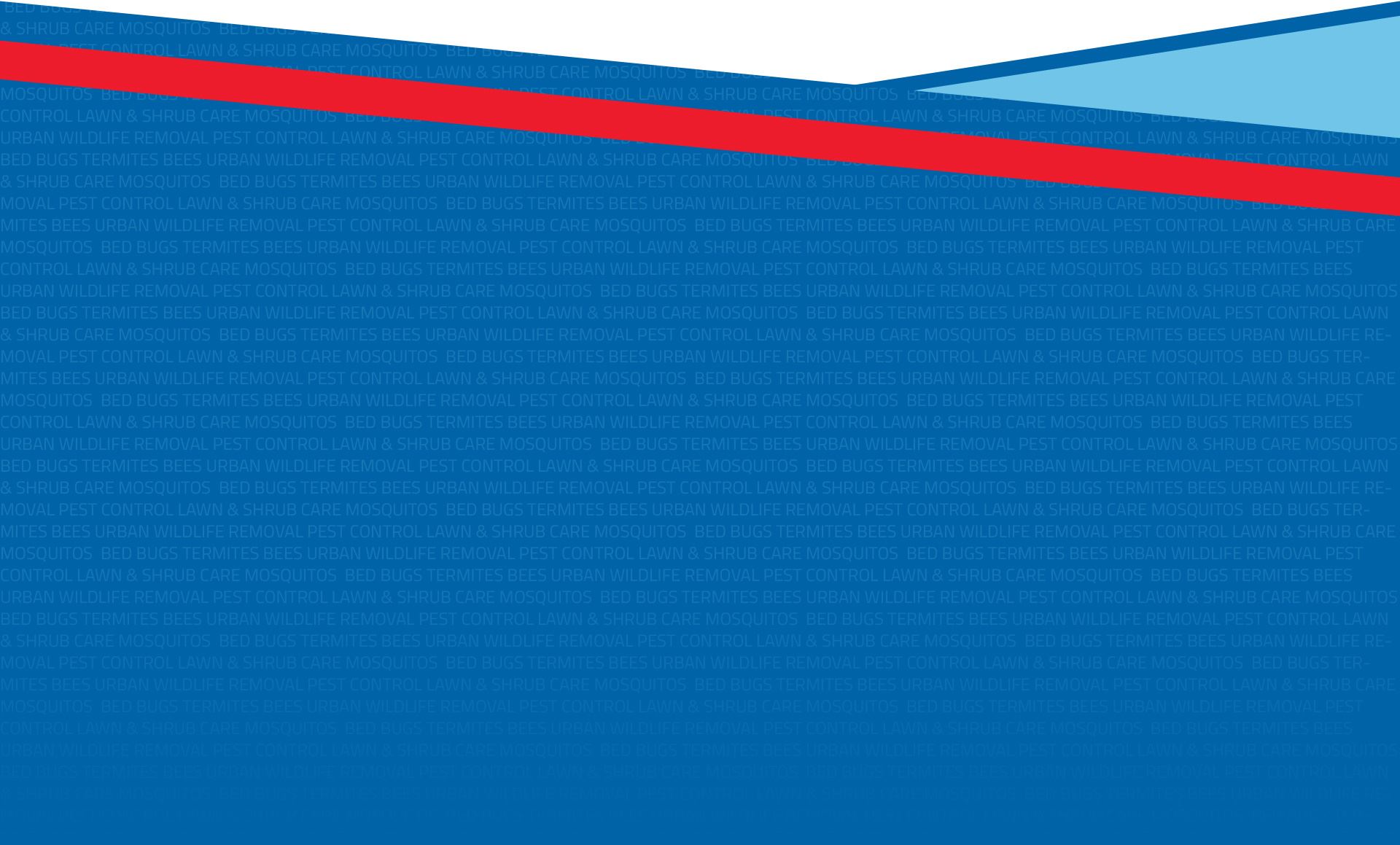 Contact Us Now




Request your free quote today!