Serving South Florida Since 1975
Don't Let Pests Take Control - We Can Help!

Pest Control in Hollywood
Southern Florida is the ideal place to live - and annoying pests think so too! The sunny and warm weather drives them to seek shelter in your home, leaving you and your family feeling uncomfortable. Let our team of Hollywood FL pest control experts put your mind at ease and rid your home of unwanted tenants!
At Hoffer Pest Solutions, we specialize in pest control in Hollywood. Our pest control services are tailored to your unique needs to ensure that the job is done right the first time. Additionally, our recurring services help keep out those troublesome pests for good.
Trust Our Dependable Team
Our Hollywood exterminators are members of the highest customer-rated pest control team in South Florida. We are passionate about protecting our community from pests and are dedicated to providing customers with the best possible experience. That's why when you call Hoffer Pest Solutions before noon we will come the same day, for no additional fee. Trust our knowledgeable and friendly team with over 40 years of experience.
Effective and Recurring Services
Our pest services in Hollywood FL include:
Regular home inspections
Preventative measures
Comprehensive treatment
And more!
Termites are one of the most destructive and insatiable pests you'll encounter living in South Florida. Termites cause homeowners inconvenience as well as costly bills to repair damage that they've caused. Protect your investment with our termite control services in Hollywood!
Quick and Effective Termite Treatment
Termite infestation isn't something we take lightly at Hoffer Pest Solutions. Our mission is to protect you and your home from costly damage and infestation. If you suspect your home is being invaded by termites, don't wait - find out more about our effective Hollywood termite treatments now.

Florida is home to two different types of termites species, subterranean and drywood. During your initial service, we begin with a comprehensive inspection. Our licensed and experienced technicians determine the specific type of termite infesting your home during this service. Our effective treatment methods are determined by the type of infestation specific to your home.
Efficient Removal and Lifetime Protection
If your home is infested by subterranean termites, our technicians install a Sentricon Termite Colony Elimination System around the exterior of your home. This superior baiting system is equipped to monitor termite activity while completely protecting your home from termites. Hoffer Pest Solutions will eliminate the existing colony and Sentricon will protect your home from future invaders.
Our 100% Guarantee Services
Termites are costly little pests and can cause thousands of dollars in damage in a short period of time. Our goal is to save your home from any additional damage caused by termites. That's why all of our subterranean termite control services in Hollywood come with our professional guarantee. If you discover termites after our technicians have completed our treatment, we will return and retreat 100% free of charge. Additionally, we guarantee our subterranean termite treatments in Hollywood for a full year with our Million Dollar Termite Repair Guarantee!
With warm weather comes plenty of outdoor activities, and along with that comes mosquitoes! Mosquitoes are one of the most infamous pests in Southeast Florida and are known carriers of dangerous diseases including Zika virus, Malaria, West Nile virus, Yellow Fever, and more.

If you plan on spending a lot of your time outside this summer, you'll need protection from harmful mosquito bites. Keep your family protected this summer season with our effective mosquito control services in Hollywood.
Experience Quick Relief from Pesky Mosquitoes
Hoffer Pest Solutions help reduce your local mosquito population in Hollywood, leaving you with fewer mosquitoes to worry about year long! Additionally, we offer one-time mosquito control services for special events, such as a backyard party! Make sure to keep your guests comfortable and prevent unwanted guests from showing up.
Bed bugs are tiny nuisances that invade your home and disrupt your peaceful sleep, leaving you feeling uneasy and overwhelmed. Our bed bug control in Hollywood restores your peace of mind and allows you to feel comfortable in your own home once again.
Customized Bed Bug Treatment Plans
Each bed bug infestation is different, so we don't use a single fixed approach for your bed bug treatment in Hollywood. Our knowledgeable bed bug technicians inspect your home for infestation and craft a unique treatment plan tailored to your specific needs.
100% Satisfaction Guarantee
Each of our Hollywood bed bug services is accompanied by our satisfaction guarantee. If you find bed bugs in your home after the treatment, we will come back and retreat at no cost to you. We are the highest rated pest control company in Hollywood and our main objective is to give you the relief you need as soon as possible.
Mice, rats, squirrels, and other rodents effortlessly find their way into your home. Need help keeping these critters out of your house? Our rodent control in Hollywood is here for you!
Protect Your Home
Rodents can pose a hazard to both the health of your family and your home. Did you know that mice and rats can chew through damaged wood and wires as well as the insulation in your home?

You know you have a rodent in your home when you see droppings near food as rodents search for crumbs and unsealed goods in your pantry to munch on. Rodents also can carry harmful diseases as well as tiny pests such as ticks and fleas into your home. It is important to remove rodents right away and prevent them from returning by sealing entryways.
Efficient and Effective Removal
If you suspect rodents have invaded your home, it is necessary to act fast! Our rodent exclusion services in Hollywood are covered for homeowners currently enrolled in our Home Shield pest control programs. Our technicians trap and remove the invaders and then set bait boxes around the perimeters of your home that are monitored monthly. This allows us to not only get rid of existing rodents, but prevent those pesky intruders from coming back!
There's nothing as annoying as sharing your home with ants. These pesky insects can contaminate your food and deliver painful bites, and nothing can ruin your appetite like seeing a parade of them on your kitchen counter! Trying to get rid of them on your own with store-bought products can be time-consuming, frustrating, and a waste of money and effort—so why bother fighting them alone? Instead, rely on our team at Hoffer Pest Solutions for ant control in Hollywood. We can handle any species of ant, including:
Ghost Ants
Carpenter Ants
Pharaoh Ants
Fire Ants
White-footed Ants
And Many More!
Your Ants Will Be Gone—Satisfaction Guaranteed
With over 40 years of experience under our belt, Hoffer Pest Solutions is the highest-rated pest control company in South Florida with a 4.9 star rating on Google—that's because we get results! Locally-owned and familiar with the Florida area, we know how to handle ant control in Hollywood quickly and effectively. If your ant problems persist, we'll re-treat for free! And if you still aren't satisfied, we'll come back and retreat! That's how sure we are that we can provide the ant control in Hollywood that you need to have a secure, comfortable, and ant-free house!
Our ant control treatments in Hollywood include:
A careful inspection of your home by one of our trained Hollywood ant exterminators to look for nests, entry points, and food and water sources.
A personalized treatment based on the inspection. We'll not only eliminate all the ants and nests in your house, but we'll seal up any entry points so the ants can't return.
Recurring visits to ensure the infestation is fully treated, as well as give advice for how to prevent further invasions.
RECEIVE YOUR FREE ANT CONTROL QUOTE TODAY
When wild animals decide to take up residence in your home, you must act fast. Here at Hoffer Pest Solutions, we offer the most effective wildlife removal in Hollywood that will solve your wildlife problem fast. Our same day services minimize the amount of damage done to your home so you can rest easy knowing your home is in the best hands possible. We offer:
Raccoon removal
Opossum removal
Squirrel removal
Armadillo removal
And much more!
The Highest Rated Pest Control in Southern Florida
Did you know Hoffer Pest Solutions is the highest-rated pest control company in Southern Florida? That's right - our customers have nothing but great things to say about working with us. See what your neighbors are talking about and partner with us for your wildlife removal in Hollywood today! When you do, you can expect:
Fast, complete removal: Our wildlife exterminators will provide the fastest, most thorough removal of all wild animals in your home.
Same-day service: We know that wildlife infestations are stressful, so we offer same-day services to ease your mind ASAP.
Years of experience: Not only is Hoffer Pest Solutions the highest-rated pest control company in Southern Florida, but we also have over 40 years of experience!
Experienced Technicians to Help Your Family
Hoffer Pest Solutions is a family-owned and operated company that has been in business for over 40 years. As natives to the area, we take great pride in protecting the home of our neighbors. Our technicians are not only your neighbors as well, but they are rigorously trained and are experts in their field. You can trust our team to treat your home and family like it is our own and keep you informed throughout the entire process!
Our Trusted Pest Guarantee
We are confident in our pest control services in Hollywood and to make sure that you have to best protection available, we ensure all of our recurring services with a 100% satisfaction guarantee. If you are unsatisfied with your service, please let us know and we will be more than happy to come and retreat your home, free of charge!
*Guarantee not applicable for one-time treatments. Your Local Pest Control Experts
Your Local Pest Control Experts
Hoffer Pest Solutions has serviced the Broward, Palm Beach, & Miami-Dade counties since 1975. Whether you're dealing with roaches, rodents, termites, or bed bugs, there's no one better to do the job than your local exterminators at Hoffer! We are proud to offer same day pest control services when you call before noon.
Hoffer Pest Solutions - Coral Springs Office
Mon-Sat: 8AM-5PM Sunday: Closed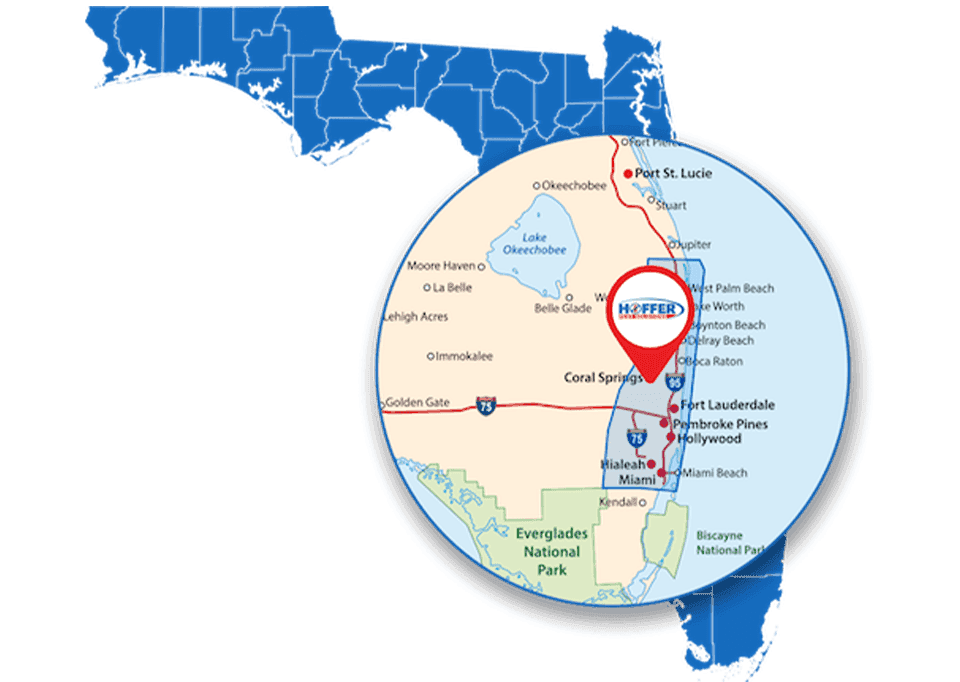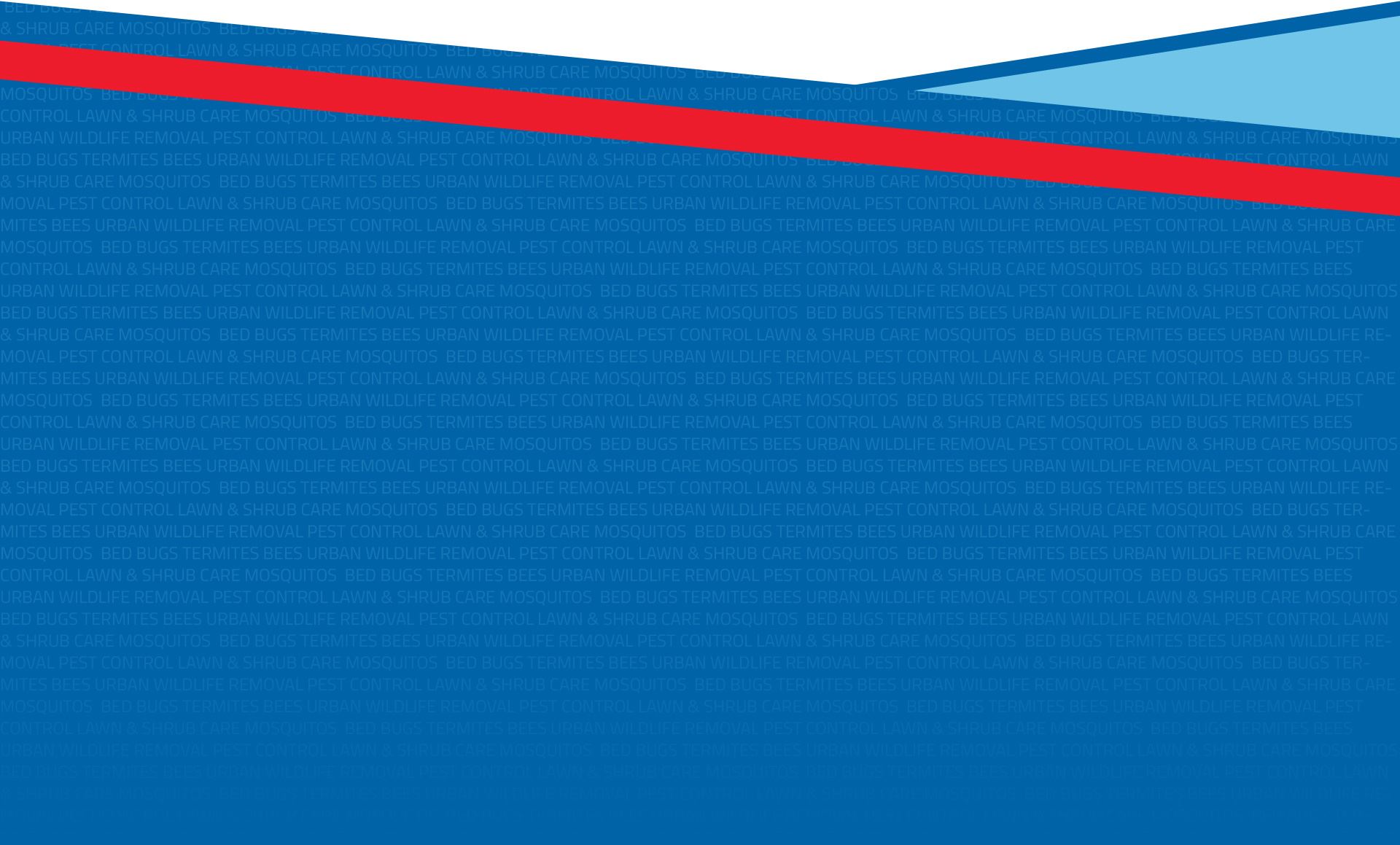 Contact Us Now




Request your free quote today!