Serving South Florida Since 1975
Don't Let Pests Take Control - We Can Help!

If you've struggled with pest infestations previously and relied on DIY and other at-home treatment methods, you know that they are simply not effective. They may provide temporary relief but leave you fighting the same battle over and over. Here at Hoffer Pest Solutions, our pest control in Davie provides customers with long-term protection. Not only will we eliminate the current pest infestation, but we also get to the root of the problem to prevent any future pest problems. With our recurring pest control in Davie, you can trust that your home is being protected from some of the most common pests to the area, including:
Ants
Earwigs
Cockroaches
Spiders
Termites
And more!
Recurring Services For Lasting Protection
As a result of our mild and humid climate, pests are a year-round threat to us Florida homeowners. So, what is our key to pest control in Davie? Recurring services! By monitoring and treating your home throughout the year, we reduce the likelihood of another pest infestation from occurring in your home significantly.
All of our Davie pest control services include:
A thorough inspection of the interior and exterior your home by one of our local Davie exterminators to assess the current infestation and identify where pests are entering and breeding.
Develop a customized course of treatment based off of our findings and treat your home with family-friendly products that eliminate all pests.
Return on scheduled quarterly visits to conduct follow-up inspections, remove any spider webs, and apply preventative treatments to ensure pests do not return.
A 100% satisfaction guarantee! If for any reason pests return between scheduled visits, just give us a call. We will send a Davie exterminator to treat your home free of charge.
Same day service! When you call before noon, Hoffer Pest Solutions will include same day service, free of charge.
Being bugged by mosquitoes? You're not alone. Here in Florida, our warm climate and frequent rain are the perfect habitat for mosquitoes, making them nearly impossible to get rid of on your own. Instead of relying on ineffective store-bought treatments, turn to your friends at Hoffer Pest Solutions for the best mosquito controlin Davie.
Get A Free Mosquito Management Treatment!
Avoid Dangerous Mosquito-Borne Illnesses
With their annoying buzzing and the itchy, unsightly red bumps they leave, mosquitoes are certainly annoying. However, they can also be dangerous. These bloodsucking pests carry a variety of diseases, including:
Malaria
Yellow Fever
West Nile Virus
Zika
Heartworms in pets
And more!
Don't face them alone! When you turn to Hoffer Pest Solutions for your Davie mosquito control, you can rest assured that you'll be in good hands. Our recurring treatments will give you complete control of the mosquito population on your poetry—and the peace of mind your deserve!
Get A Free Quote On Mosquito Control!
Rely on the Highest Rated Pest Control in South Florida
As a local, family-owned business with 40+ years of experience serving the Florida area, our team at Hoffer Pest Solutions cares about making our customers and our community happy—which is why we have over 500 online reviews and a 4.9 rating on Google+! When you partner with us for mosquito control in Davie, you can expect:
A thorough property inspection by one of our trained and friendly Davie mosquito exterminators
Treatment of your yard with our state-of-the-art fogging system
A mosquito treatment plan tailored specifically for you
Monthly inspections to ensure you'll stay mosquito-free!
The option of same-day service!
Tossing and turning because of bed bugs? These bloodsucking pests are not only disgusting, but can leave you covered in raised red welts and even cause allergic reactions in some individuals. Thankfully, your friends at Hoffer Pest Solutions has over 40 years of experience in bed bug treatment in Davie, meaning we'll have the solutions you need to get back a comfortable bed.
Get the Bed Bug Treatment Plan That's Right for You
At Hoffer Pest Solutions, we know that each home and pest problem is unique and requires unique solutions. As the highest rated pest control in South Florida (with a 4.9 Google+ rating and over 500 reviews), we care about delivering you the best personalized bed bug treatment in Davie. When you partner with us for Davie bed bug treatment, you can expect:
A careful inspection of your home to identify the extent of your infestation
A personalized treatment plan, with multiple options
Get A Free Quote On Bed Bug Treatment!
Be Bed Bug Free — Guaranteed
You need restful sleep to live a healthy, happy life, and nothing deprives you of your rest like bed bugs. Trying to fight them with store-bought or DIY treatments is rarely effective and can be a waste of your precious time and money. Our team at Hoffer Pest Solutions wants you to feel confident in your Davie bed bug treatment, so we offer you a guarantee: if your bed bug problems persist after treatment, we'll retreat for free because we care about your satisfaction and peace of mind. Contact us today to get started with the best bed bug treatment in Davie!
Are ants causing you anxiety? These pests can not only invade your home through the smallest cracks, but many of them can deliver stings and bites that can even trigger allergic reactions. Don't face them alone! When you turn to Hoffer Pest Solutions for ant control in Davie, you'll be relying on a team with a 4.9 rating on Google+ and over 500 glowing reviews—making us the highest-rated pest control company in South Florida!
Get $100 Off the home shield classic pest control program!
Rely on 40+ Years of Experience
Hoffer Pest Solutions is a local, family-owned business that has been providing ant control in Davie for over four decades—meaning we know how to handle any sort of ant problem you might have! Whether you're facing an infestation in your home or trying to prevent ants from getting in, we have the solutions you need to take back your home and peace of mind! Some common species we can deal with include:
Fire ants
Carpenter ants
White-footed ants
Ghost ants
Pharaoh ants
And more!
Get a free quote on ant control!
You'll Be Ant Free—Guaranteed!
When ants invade, you need to act fast. Here at Hoffer Pest Solutions, we are dedicated to providing you the best and fastest solutions to all your Davie ant control problems. We even offer same-day service, meaning you'll get service quickly. When you partner with us for ant control in Davie, you can expect:
A detailed inspection of your home by one of our experienced Davie ant exterminators
A specific treatment plan tailored to meet your unique needs
Destruction of any existing ant nests and preventative treatments to keep them out for good
Recurring visits and prevention tips to keep you ant-free!
A satisfaction guarantee: if your ants return between treatments, we'll retreat for free!
You want to get rid of rats or mice as soon as you realize they have entered your home. Rodent infestations can occur very quickly, posing serious threats to your family and your home. Not only are rodents unsanitary, but they can also cause structural damage to your home. Rats and mice can also bring in more pests like mites, fleas, and ticks putting your furry friends at risk. As a locally and family-owned business, we have over 40 years of experience providing the highest rated pest control services to South Florida residents. When you choose Hoffer Pest Solutions for rodent control in Davie, you will receive the following:
Free rodent inspections
Trapping and removal of rodents to eliminate the current infestation
Preventative treatment methods to protect against future mice and rat problems
A satisfaction guarantee -- if you have a recurring rodent problem after treatment, we will re-treat your home free of charge.
SCHEDULE A FREE INSPECTION NOW
We don't mind wild animals, and many of us care about the safety and well-being of wildlife -- but living in close quarters with pesky wild animals can be a nuisance! Luckily, we here at Hoffer Pest Solutions offer humane wildlife removal in Davie! For over 40 years, our experienced technicians know exactly how to safely remove raccoons, foxes, armadillos, and more from your home and prevent them from coming back! Call us for your wildlife control in South Florida and expect:
A thorough inspection of the problem, what animals have invaded your home, and any damage caused by the animals.
Experts to monitor the home for 5 days to assess your specific situation.
Humane removal of wild animals present in your home.
Same Day Wildlife Control With A Satisfaction Guarantee
If you are dealing with wildlife issues, you want to get rid of the problem as fast as possible. We offer same day services if you call before noon, bringing you fast relief from annoying wild animals!
We are very confident in our ability to safely remove wildlife and prevent future invasions, so much so that we offer a satisfaction guarantee! If you are still dealing with wild animals in your home after our services, we will re-treat free of charge!
CONTACT US FOR WILDLIFE REMOVAL
Termites are every homeowner's worst nightmare. Tough to eliminate and destructive, these pests cost over $5 billion in damages each year in our country. If you're tired of letting termites rob you of your peace of mind, turn to your neighbors at Hoffer Pest Solutionsfor termite treatments in Davie backed by 40+ years of practical experience eliminating termite colonies. As a locally-owned business, we care about our community, which is why our termite exterminators in Davie work hard to provide fast and effective relief from termites. Call us today at (954) 590-0477 to set up an inspection!
Get a Free Termite Inspection Today!
DIY termite treatments are usually nothing more than a drain on your time and money. To find solutions that stop termites at their source, you want professional help. Here at Hoffer Pest Solutions, our guaranteed services and state-of-the-art technology mean our termite control in Davie is the reliable solution you've been looking for. We're even happy to provide a FREE inspection to identify the severity of your termite infestation! When you partner with us, you'll get the following:
Ourfree termite inspection to establish a treatment plan for your home.
Termite treatment administered by our trained termite exterminators in Davie.
Top-of-the-line Sentricon technology to secure your home against termites.
Monitoring and follow-up treatments as necessary.
CALL TODAY FOR A FREE ESTIMATE!
You Can Trust The Local Experts
When pests invade your home, we understand you want only the best and most qualified people handling it. With over 40 years of experience in the business, we have worked tirelessly to maintain our reputation as the most effective and trustworthy company for pest control in Davie. We treat our customers just as we would want to be treated. At Hoffer Pest Solutions, we only hire highly experienced and friendly exterminators that are dedicated to keeping your loved ones safe.
But, don't just take our word for it. Thanks to almost 500 reviews from your friends and neighbors, we have obtained a 4.9-star Google review! If you are looking for a company that treats you like family, then Hoffer Pest Solutions will be the perfect fit for you! Your Local Pest Control Experts
Your Local Pest Control Experts
Hoffer Pest Solutions has serviced the Broward, Palm Beach, & Miami-Dade counties since 1975. Whether you're dealing with roaches, rodents, termites, or bed bugs, there's no one better to do the job than your local exterminators at Hoffer! We are proud to offer same day pest control services when you call before noon.
Hoffer Pest Solutions - Coral Springs Office
Mon-Sat: 8AM-5PM Sunday: Closed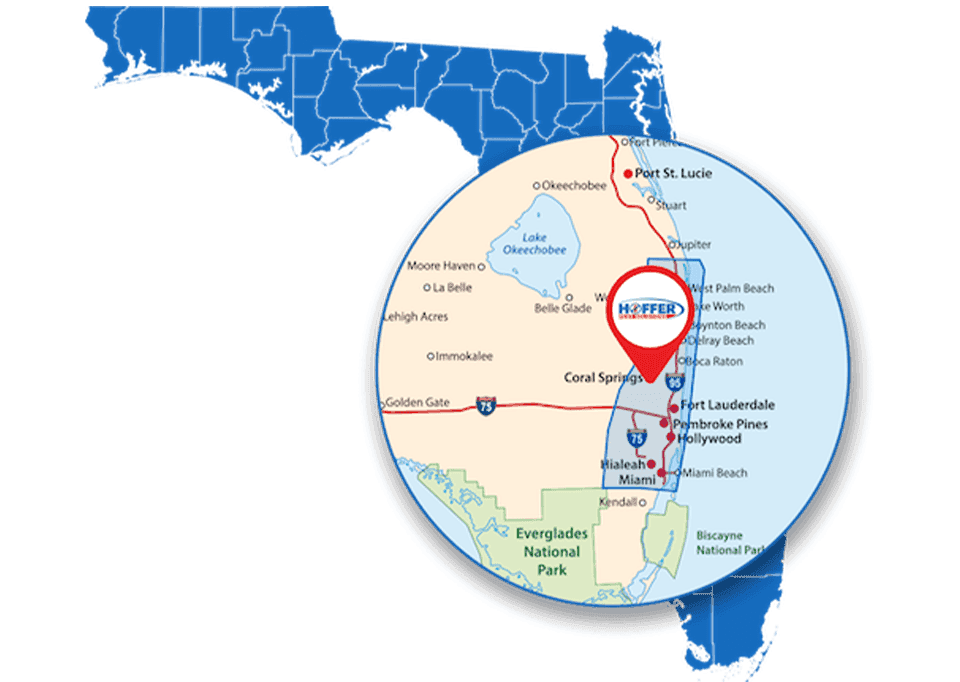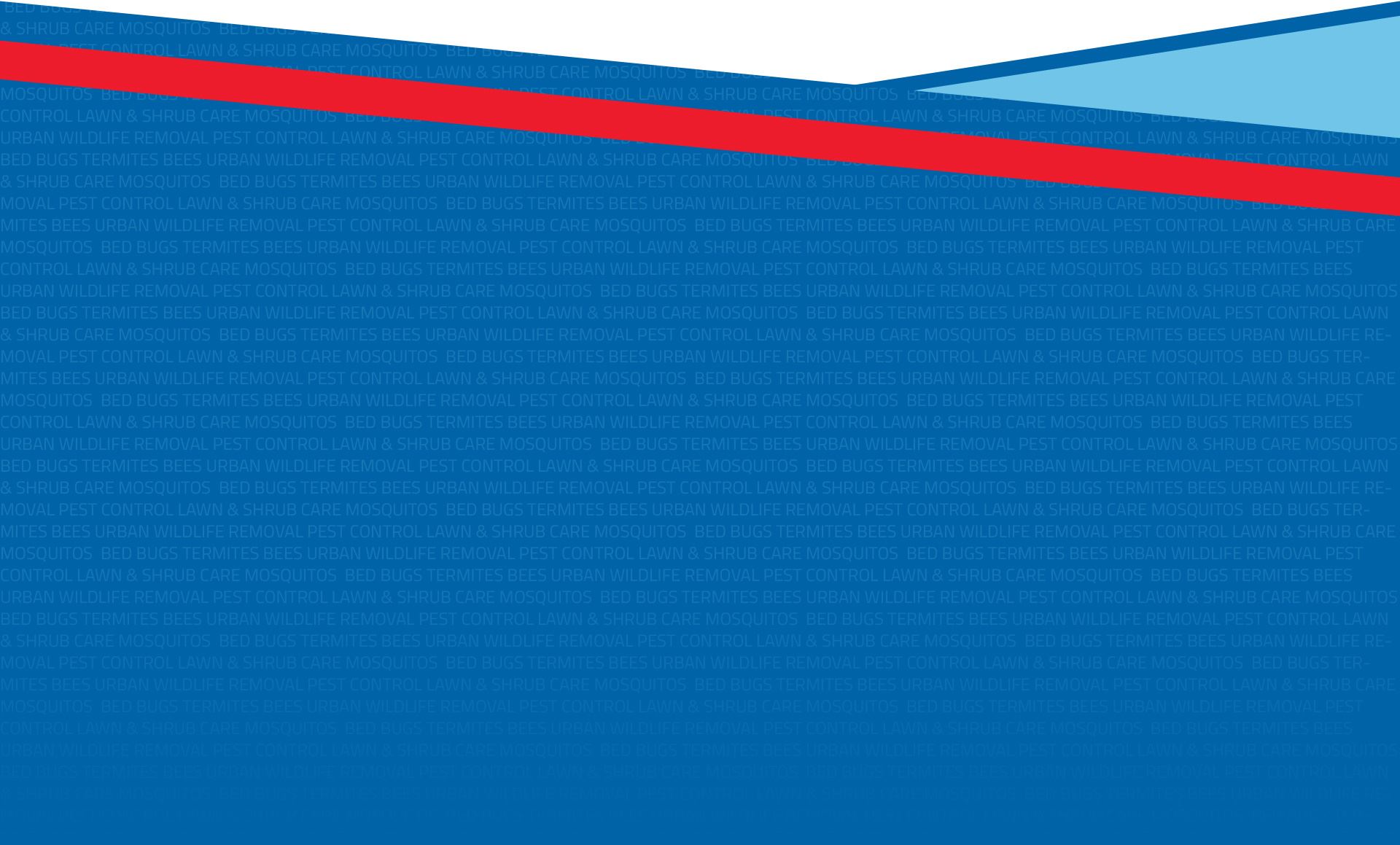 Contact Us Now




Request your free quote today!