Serving South Florida Since 1975
Don't Let Pests Take Control - We Can Help!

Here in Florida, pests can be a big problem. Our humid climate allows all sorts of creepy crawlies to thrive, and many of them will seek food and shelter in your home, causing you unnecessary stress and expenses. Here at Hoffer Pest Solutions, we've been providing quality pest control in Miami for over 40 years. As a locally-owned-and-operated business, we know Florida and its pests better than anyone.
Our trained and professional exterminators in Miami can treat for any of the following:
Rats
Mice
Bed Bugs
Ants
Termites
Mosquitoes
Cockroaches
Wildlife
And more!
Save $100 on Pest Control Today!
Top-of-the-line pest control in Miami doesn't have to empty your savings to get rid of pests once and for all. Here at Hoffer, we believe in giving our customers and community quality pest management services that are as flexible, convenient, and affordable as possible. In addition, we are excited to give you $100 off your first treatment, and we won't stop there. When you work with us for your pest control needs, you'll enjoy all of the following benefits from your exterminator in Miami:
A FREE inspection to assess your home's needs.
Protection from over 20 different types of local pests.
Family-friendly and pet-safe treatments you can trust.
Preventive treatments to keep pests gone for good.
The pest-free home you deserve!
We'll Get Rid of Pests—Guaranteed!
There's a reason our team at Hoffer is the highest-rated pest control company in South Florida: we don't believe our job stops at simply providing pest control in Miami. Our commitment to keeping you happy and satisfied goes beyond eco-friendly treatments to eliminate pests completely. In fact, we offer free re-treatments if pest issues persist to make sure you stay satisfied. With us, your home (and wallet) will be in good care.
It can be frustrating to share your home with ants. These insects are capable of building nests within your walls, overtaking your kitchen, and delivering painful stings and bites—it's no wonder they're bugging you! Worse, when you see one ant, many more are always nearby. For ant control in Miami that will eliminate these frustrating pests quickly and safely, look no further than your local experts at Hoffer Pest Solutions. We are proud to offer treatments that are safe for your family and pets along with same-day service, meaning that we can be there as soon as you need us! When you work with us, you'll get the following from your ant exterminator in Miami:
A FREE inspection to locate ants and identify your home's situation.
Tailored methods for ghost ants, fire ants, carpenter ants, and more!
Advice from your trained technician on how to make the most of your service.
Recurring treatments to get rid of ants—for good!
Our satisfaction guarantee!
GET YOUR FREE INSPECTION TODAY!
Termites will eat away at your home and your savings before you know it, damaging your house's structural integrity, lowering its resale value, and racking up hundreds or thousands of dollars in repairs. Here at Hoffer Pest Solutions, we know the damage these insects can do better than anyone, which is why we're committed to offering fast and effective termite control in Miami. We can eliminate both drywood and subterranean termites, and our family-safe termite treatment options will keep both your home and the ones you love most protected. When you partner with us, you'll get the following from you termite exterminator in Miami:
A FREE termite inspection to determine the type of pest you're dealing with.
A range of termite treatment options, including the Sentricon® Termite Colony Elimination System.
Reliable, eco-friendly treatments.
The assistance of termite exterminators in Miami with over 40+ years experience!
Guaranteed Protection From Termites
Because of the financial devastation termites can cause, it's important to know that your termite control in Miami will eliminate your colony completely. As members of the highest-rated pest control company in South Florida, our team at Hoffer wants you to feel confident in our services. We're so sure we can protect your home from termites that with our one-year million dollar termite repair guarantee, we're willing to cover up to $1,000,000 in damages if your subterranean termites return!
*Hoffer Pest Solutions will fix and repair subterranean termite damage only for up to $1,000,000. This guarantee option is only valid when signing up for termite service. Please see service agreement for details! Your Local Pest Control Experts
Your Local Pest Control Experts
Hoffer Pest Solutions has serviced the Broward, Palm Beach, & Miami-Dade counties since 1975. Whether you're dealing with roaches, rodents, termites, or bed bugs, there's no one better to do the job than your local exterminators at Hoffer! We are proud to offer same day pest control services when you call before noon.
Hoffer Pest Solutions - Coral Springs Office
Mon-Sat: 8AM-5PM Sunday: Closed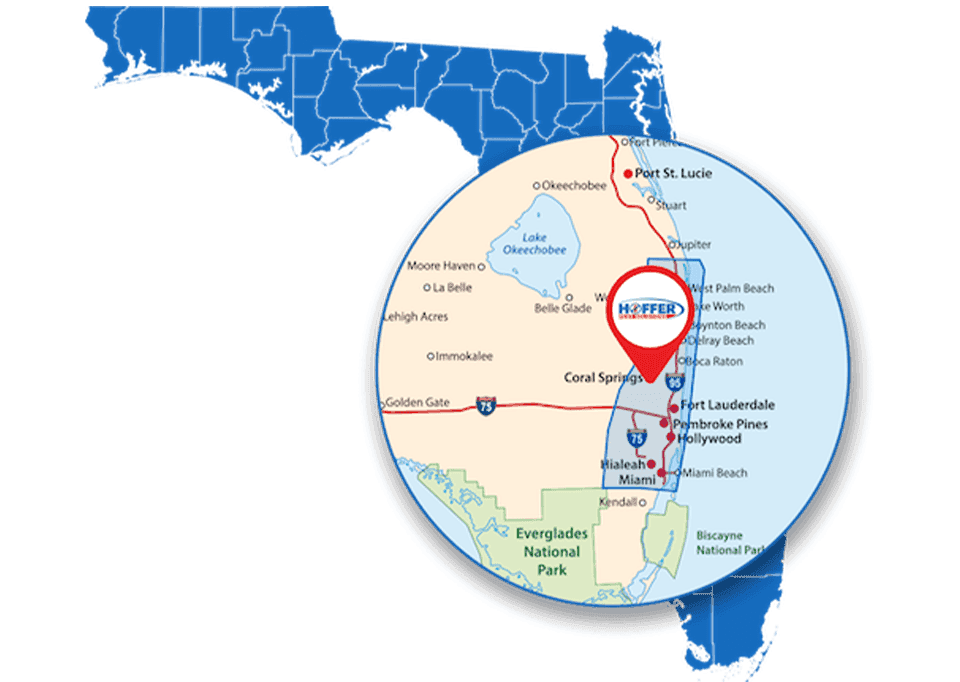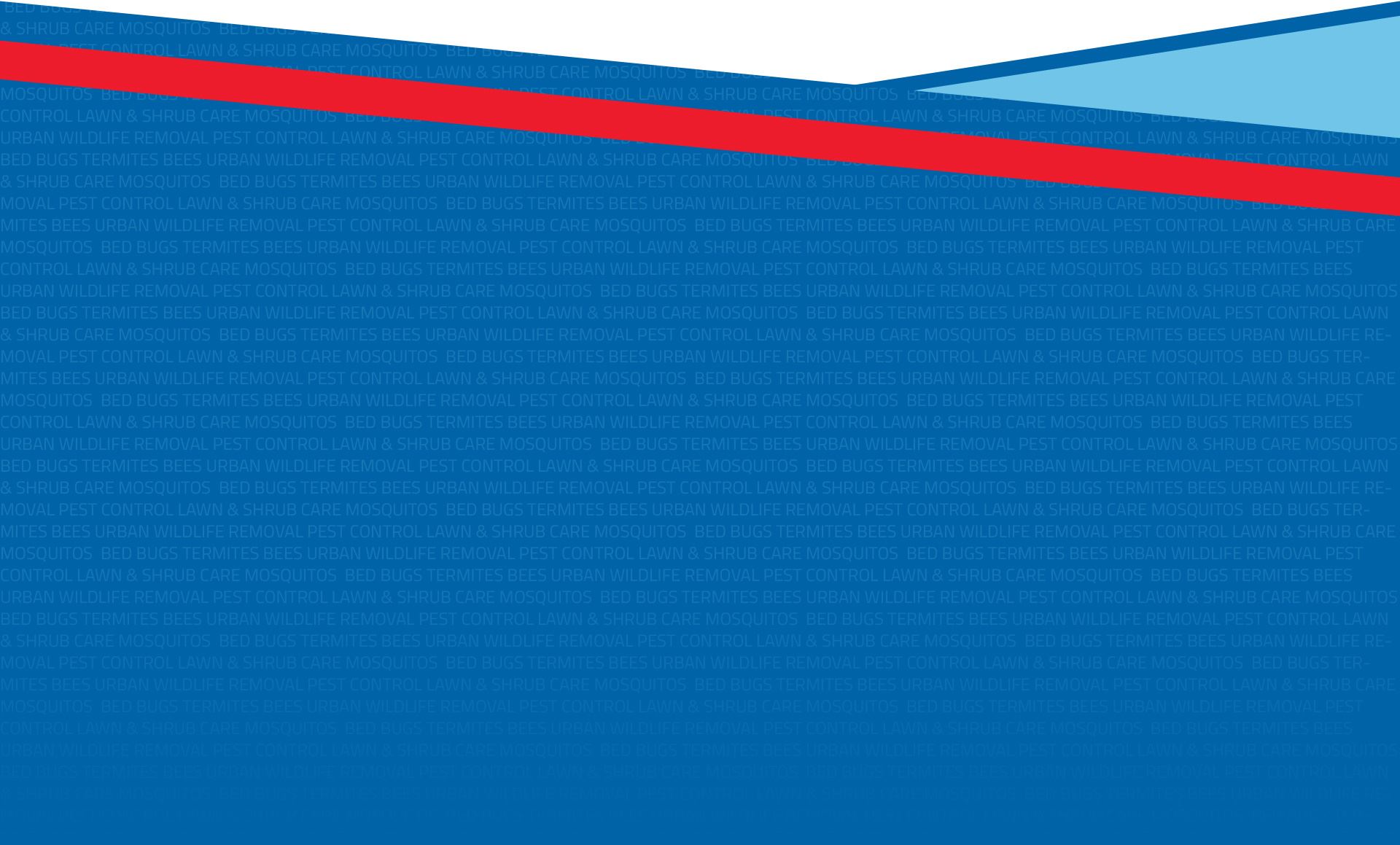 Contact Us Now




Request your free quote today!