Serving South Florida Since 1975
Don't Let Pests Take Control - We Can Help!

Hoffer Pest Solutions has been proudly serving our neighbors in Parkland with the best pest control for over 40 years. With a park-like environment, including the Loxahatchee Everglades, it's no wonder that there's so many pests in Parkland. We provide the highest quality pest management solutions possible while delivering a customer service experience that can't be beaten! We proudly offer the following pest services in Parkland:
Residential Pest Control
Bed Bug Control
Mosquito Control Treatments
Termite Control
Ant Control
Rodent Control
Wildlife Control
and More!
RECEIVE $100-$200 OFF OUR DIFFERENT PEST CONTROL PACKAGES!
We don't just eliminate pests - we keep them from coming back! Our pest control treatments near Parkland are tailored to your specific needs to ensure we efficiently and effectively get rid of any existing pests. Then we prevent them from returning with recurring preventative treatments guaranteed to keep your home pest-free. Our team is comprised of the most knowledgeable and friendly pest exterminators, dedicated to educating you on our services and treatments. Even better, call before noon for same day pest control services!
We offer a variety of Parkland pest control packages, so you're sure to find something that suits your needs and your budget. What's more, we offer coupons that allow you to save even more on your pest control services in Parkland!
Trust the Highest-Rated Pest Exterminators in Parkland
Hoffer Pest Solutions has been serving our neighbors for over 40 years, so you can trust that our team has what it takes to keep your home pest-free. What's more, we back all of our pest control services in Parkland with our professional satisfaction guarantee. If you are unsatisfied with our services, let us know and we'll come back to make it right!
RECEIVE A FREE PEST INSPECTION TODAY!
Did you know that termites affect one-fifth of the homes in the Southeast? You don't have to become a statistic! Although termite damage may seem sudden and unexpected, it is typically not covered in homeowners insurance policies because it can be prevented with proper prevention measures and treatments.
Fast Effective and Termite Treatments
Our professional termite control services in Parkland protect your greatest investment from damage - and you don't even have to lift a finger! We keep your home safe from both subterranean and drywood termites (Don't know the difference? Learn more!) with our comprehensive termite protection program.
We begin each treatment with a thorough inspection of your home during our initial service. During this service, our certified and knowledgeable termite exterminators determine the specific type of termite infesting your home. Our treatment plans are then customized to your specific needs.
The Best Technology in the Business
We are proudly certified and trained to install the Sentricon Termite Colony Elimination System around your home's exterior. Sentricon is the superior termite baiting system that eliminates entire colonies of termites, including the queen. Whether you already have a termite problem or you just want to prevent one from ever happening, Sentricon is the solution.
Once we've installed the baiting system around your home, you can rest easy knowing you're covered by 24/7 termite monitoring and protection.
Protect Your Investment from Damage
Termites are an expensive threat that simply aren't worth the risk. Don't waste time and money on treatments that don't work - trust your home to Hoffer Pest Solutions! We've been dealing with tricky termites in Florida for over 40 years, so you can rest easy knowing your home is in our capable hands. We're so confident in our termite management solutions that all of our Parkland subterranean termite treatments come with a Million Dollar Termite Repair Guarantee.
RECEIVE A FREE EXTERIOR PEST TREATMENT WITH YOUR TERMITE SERVICE!
One of the best parts about living in Southeast Florida is the warm, beautiful weather. But we're not the only ones that think so! Mosquitoes can quickly ruin your outdoor fun in your Parkland backyard. Mosquitoes are known to carry a variety of harmful diseases including:
Zika Virus
West Nile
Yellow Fever
Malaria
And more
Keep yourself and your family protected from these annoying pests with our effective Parkland mosquito control treatments. We offer recurring monthly treatments to ensure your yard is mosquito-free all summer long. Our goal is to get rid of mosquito near your home, reducing the local population to provide you with long-term relief from these biting pests all year long.

Are you hosting an outdoor event this summer? Keep your party free of mosquitoes with our special one-time mosquito service! We'll treat your home to ensure you don't host any unwanted guests.
RECEIVE A FREE QUOTE ON ALL OUR MOSQUITO CONTROL OPTIONS
We understand how uneasy you feel when you find ants in your home. Once you see one, you know that more will follow! Before you know it, you'll have an army of ants marching through your home. Here at Hoffer Pest Solutions, we offer the best ant control treatments in Parkland that get rid of your existing infestation and prevent future ones from occurring!
Effective Ant Treatments, Long-Term Results
The best ant control treatments in Parkland start with a call to your local professional pest control expert! Our team of professional ant exterminators have the training and knowledge needed to safely and quickly address ant infestations.
If you have already spotted ants, or want to proactively protect your family and home, our ant control treatments in Parkland are the solution you need. Our experts eliminate both indoor and outdoor infestations by finding and eliminating all nesting locations. The places we inspect include:
Outdoor ants can typically be found nesting in the ground, beside rocks, and in log and firewood piles.
Inside of homes ants nest in flower pots, behind baseboards and wall, or in the kitchen and bathroom areas.
With ant control, all nests need to be found and exterminated to truly control and eliminate the infestation. So, if ants have invaded your home or outdoor living space, contact us for ant control treatments in Parkland today!
CONTACT US TODAY TO LEARN MORE ABOUT OUR ANT CONTROL OPTIONS!
Are you currently dealing with an infestation in your home and looking for fast and effective rodent control in Parkland? Don't worry, Hoffer Pest Solutions is the highest rated pest company in the surrounding area, and has a dedicated team of professional exterminators in Parkland ready to tackle your specific issue. Don't let these annoying pests disturb your life any longer - give us a call and let us implement our high-quality Parkland rodent control services. With our highly effective rodent trapping and control treatments, you and your family can live at peace once again!
Effective Rodent Removal - Guaranteed
Rodents such as rats and mice like to create nests in homes and businesses and can cause a number of problems. They leave your environment unsanitary by contaminating food, spreading disease, and leaving their droppings in the nooks and crannies of your home. All of these things can put you and your family at risk and need to be addressed immediately. If you are already participating in one of our Home Shield pest control programs, this process is included at no extra cost to you. Give us a call today for your rodent control in Parkland, and one of our professional rodent technicians will:
Secure the perimeter of your home to ward off rodents
Trap and humanely extract rodents currently inside of your home
Install traps and baits dependent on the degree of your infestation
Give you your home back-rodent free!
With our proven methods of rodent control in Parkland, we will rid your environment of all rodents, and guarantee that they will not return! If you find traces of rodents after one of our treatments, we will return to your property and re-implement our services.
RECEIVE A FREE RODENT INSPECTION TODAY!
Good sleep is crucial to a long and healthy life—and nothing can interrupt a peaceful night like bed bugs. These pests are not only aggravating, but they can spread quickly throughout the furniture in your home. Instead of losing your precious sleep, rely on our team of bed bug exterminators at Hoffer Pest Solutions for all your Parkland bed bug control needs.
How to Get Rid of Bed Bugs in Parkland
Our family-owned company has been in the pest control business for over 40 years, and we know what it takes to get rid of bed bugs and keep them gone. When you team up with the highest-rated pest control company in South Florida for bed bug control in Parkland, you get:
A thorough inspection of your home by one of our experienced Parkland bed bug exterminators
A customized treatment plan, and the speedy eradication of any bed bugs in your home with a treatment tailored for your home.
A variety of options, meaning we'll have the best method for your unique situation.
Guaranteed results—if you find bed bugs in your home after we treat, we'll happily come back out and re-treat free of charge!
Call us today at 954-945-7979 to learn how we can help you get rid of bed bugs for good!
GET A FREE BED BUG CONTROL QUOTE TODAY!
Has your home been taken over by wildlife creatures? If you hear scratching noises in the walls, see animal droppings around your home, or notice claw marks on walls or furniture, the answer is yes. Fortunately for you, Hoffer Pest Solutions offers the most thorough wildlife removalin Parkland for your home. We can help with safe and humane:
Squirrel removal
Racoon removal
Bird removal
Opossum removal
And more!
Same-Day Service & Satisfaction Guarantee
Hoffer Pest Solutions has over forty years of experience with wildlife removal services here in Parkland. As a family-owned company with years of experience, you are in the best hands for your wildlife removal needs in Parkland. We care about your home, the safety of your family, and about giving you the best care. With Hoffer Pest Solutions, you can expect:
Same-day service: Our wildlife control experts can be at your home the same day to get rid of your wildlife issues in Parkland.
Highly rated on Google: Hoffer Pest Solutions is the highest rated pest control company in Southern Florida! You can trust you're making the right call when you partner with us for your wildlife removal in Parkland.
Satisfaction guarantee: If you are not satisfied with your wildlife removal services, we promise to make the situation right!
CALL TODAY FOR YOUR FREE WILDLIFE REMOVAL QUOTE!
Satisfaction Guarantee
We know how important is to feel safe and comfortable in your home. Let us help restore your peace of mind with our satisfaction guarantee for all recurring services. If pests still persist after your pest treatment in Parkland, simply give us a call, and we'll come back to treat your home free of charge. That's how confident we are in what we do!
The Highest-Rated Exterminators in Parkland!
When it comes to pest control in Parkland, the team of pest exterminators at Hoffer Pest Solutions are your local experts. We are the highest customer rated pest control team in South Florida. Whether you're looking for an exterminator in Coral Springs or Parkland, your home will be treated with effective treatments, servicing you with a smile, all while providing a pest-free home! Don't believe us? Check out our Google+ rating of 4.9 and see for yourself! Your Local Pest Control Experts
Your Local Pest Control Experts
Hoffer Pest Solutions has serviced the Broward, Palm Beach, & Miami-Dade counties since 1975. Whether you're dealing with roaches, rodents, termites, or bed bugs, there's no one better to do the job than your local exterminators at Hoffer! We are proud to offer same day pest control services when you call before noon.
Hoffer Pest Solutions - Coral Springs Office
Mon-Sat: 8AM-5PM Sunday: Closed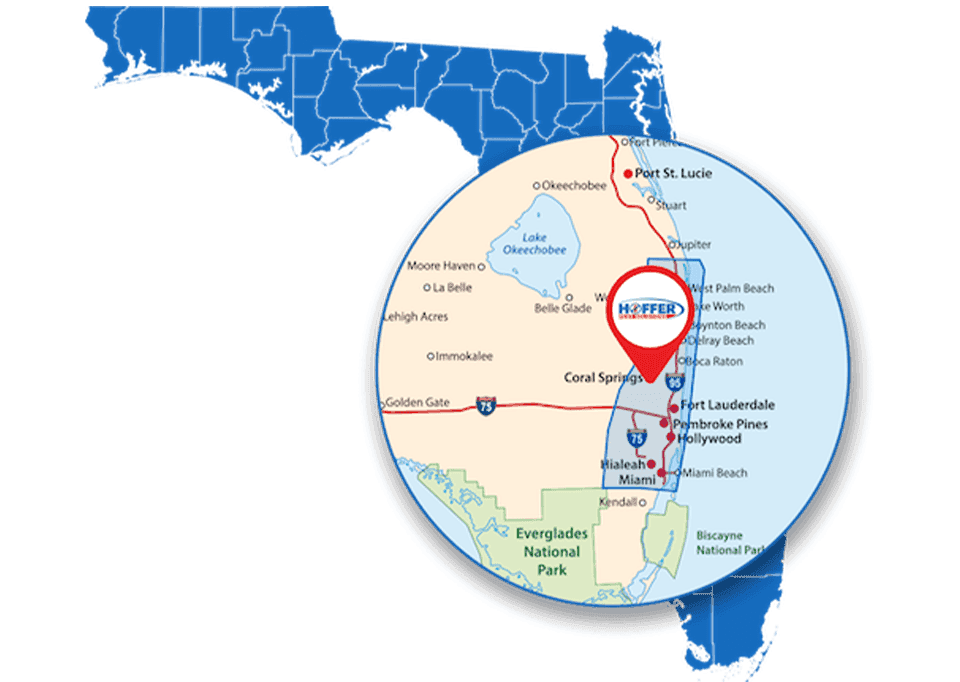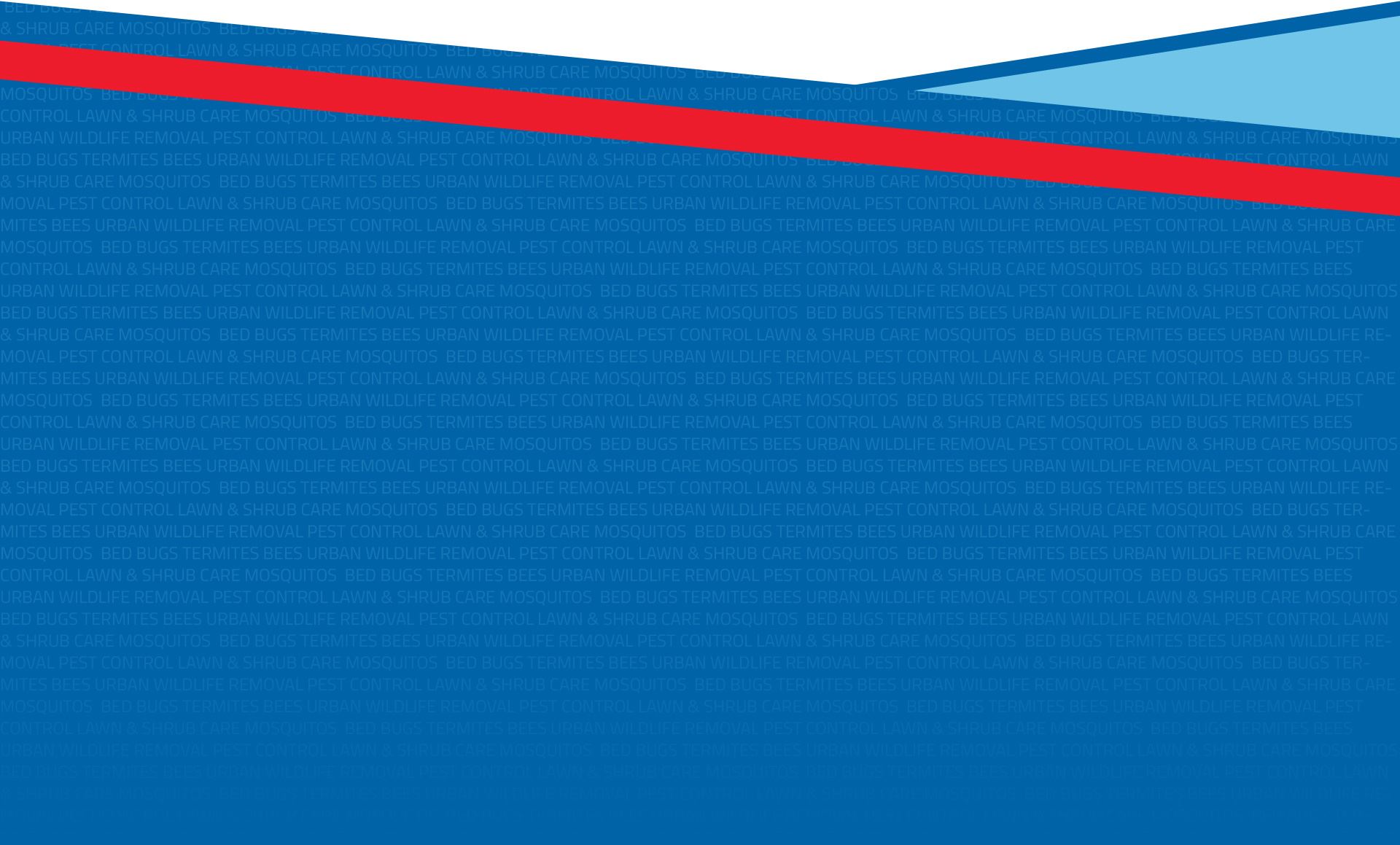 Contact Us Now




Request your free quote today!