Serving South Florida Since 1975
Don't Let Pests Take Control - We Can Help!

Whether you're dealing with cockroaches, ants, or even raccoons, Hoffer Pest is here to help with all pest control needs for your home in Weston! Our goal is to protect you from any pest-- big or small-- helping you live a happy, comfortable life in your pest-free home!
Here at Hoffer, we have been experts in Weston pest control for more than 40 years. As South Florida locals, we understand our local environment and the types of pests that choose our community as their homes. In a year-long tropical climate, with lots of lush landscaping, your home in Weston can often fall victim to pests not only around the outside of your house but on the inside as well. Our experts are trained to not only identify the key issues that are causing your pest problems but to eliminate them with the most effective treatments possible.
With more than 20 common native pests here in Weston, you need pest control you can count on. When you partner with Hoffer Pest, you can expect:
Regular Home Inspections- to identify current and potential pest issues
Comprehensive Treatments- to effectively eliminate all types of pests in your home
Preventative Measures- to defend your home against future infestations
Trust the Experts with the Highest Rated Pest Service in South Florida
Put your mind at ease by partnering with our Weston pest control experts! Other companies are notorious for neglecting customers' time, with Hoffer Pest Solutions when you call us before noon we come the same day. As the highest rated pest control company in South Florida, you can expect great customer service, attention to needs, and total elimination of your pest problem. Don't believe us? We have a Google+ rating of 4.9 stars and over 1000 reviews to back us up!
RECEIVE $100 OFF OUR HOME SHIELD CLASSIC PEST CONTROL PROGRAM!
OUR PEST CONTROL PACKAGES
While they're most often found in the kitchen, ants can become a frustrating issue in any area of your home. Drawn to food, and crumbs, ants can enter through tiny holes you may not have even known were there. Ants are a year-round issue here in South Florida, so your best bet for total elimination and protection is recurring ant control in Weston.
If you're fed up with dealing with your ant infestation on your own, rely on Weston ant exterminators that you can trust.
Eliminate Ants Once and For All
Protect your home from ants with our ant control services in Weston. Whether they're on your outdoor patio or trailing through your kitchen, our technicians are experts at identifying the source of the problem, and eliminating ants once and for all!
With our help, you can rid your home of ants once and for all. We can help control a variety of different ant species, including:
Carpenter ants
Fire ants
Ghost ants
Pharaoh ants
And more!
GET STARTED TOWARDS AN ANT-FREE HOME WITH A FREE PEST INSPECTION!
Rats, mice, and other rodents seek shelter in your home, leaving you feeling uncomfortable and uneasy. If you've tried do-it-yourself methods, you already know they just don't cut it. DIY treatments may give you short-term relief, but if used improperly, they can also pose a threat to the health and safety of your family.
Here at Hoffer, we're the experts in rodent control in Weston. With more than 40 years of rodent control experience, you can count on our team to not only identify the source of your rodent problem but to completely eliminate it! We'll give you the long-term relief you need.
Our rodent control service options include the following:
Exclusion services- We'll identify and seal any entry points to keep future rodents out
Trapping and Removal*- Our experts will set traps and return 5 days later to remove and eliminate any trapped rodents
Bait Boxes- We'll provide monthly service for bait boxes, ensuring rodents are always on the run, away from your home
Exterior Treatments- Protect your home from the inside out with our exterior treatments
*If you currently are enrolled in our Home Shield program, rodent trapping and removal is included!
Let your rodent problems be a thing of the past with our expert rodent control services in Weston.
RECEIVE A FREE RODENT INSPECTION TODAY!
If you have more than just rodents running around your home, you may be in need of our animal control services. Wildlife such as raccoons and possums can spread disease and pose a dangerous threat to your pets and family. Our team of local wildlife animal control experts are here to help keep your family safe with our wildlife control services. We offer relief from animals including the following:
Raccoons
Opossums
Squirrels
Armadillos
And more
When you partner with Hoffer, you can expect our technicians to take the time to thoroughly evaluate the issue with an inspection before developing a comprehensive treatment plan. Once the prep work has been done, we'll set and monitor humane traps for five days to safely capture and remove any animals that have been lurking on the premises, giving you back your peace of mind.
RECEIVE A FREE ANIMAL CONTROL QUOTE TODAY!
Living in South Florida, your home is at a higher risk for termite damage. 1 in 5 homes in the Southeast will be impacted by termites. Don't become a statistic! Let our experts protect your largest investment from damaging termites with superior monitoring and termite treatments in Weston.
Treatment From Local Termite Experts
As a locally owned and operated company, we know exactly how serious termites can be in the Weston area. To treat your home and defend it against future termites, our experts will complete the following steps:
Thorough termite inspection
Extermination treatments- for either drywood or subterranean termites
Termite monitoring to ensure elimination
Preventative measures to ensure your home stays termite free
Using our state of the art Sentricon Termite Colony Elimination System we'll provide complete elimination and protection for your home from damaging subterranean termites. Not only does this baiting system eliminate your current infestation, but it provides 24hr termite monitoring to prevent any future infestations from occurring.
Contact one of our termite control experts today to setup your termite inspection!
RECEIVE A FREE PEST TREATMENT WITH OUR TERMITE SERVICE
Have you been finding spiders lurking around in your corners? Our spider control services will help not only eliminate current spider problems, but help prevent them from returning! DIY methods may provide short-term relief, but if you're looking for long-term protection, you need Weston spider control that works.
Keep Spiders Away with Quarterly Treatments
When you eliminate spiders you don't just want them gone for a little while, you want long-term elimination! To ensure your spider problem doesn't return, our experts will return to treat on a quarterly basis to ensure your home stays spider-free all year long!
Service You Can Count On
When it comes to any kind of pest control, you need experts that are good at what they do, and that you can feel comfortable working with. Here at Hoffer, you are our top priority! As a customer, you'll receive prompt attention, excellent customer service, and most importantly – TOTAL relief from your pest problem. With more than 40 years of experience, and a top customer service rating, you can rest assured knowing that your pest problems are a thing of the past!
Mosquitoes can carry a multitude of dangerous diseases right into your backyard. Though they have short life spans, they can repopulate very quickly. When it comes to preventing large swarms of mosquitoes in your backyard, you can trust Hoffer Pest Solutions and our mosquito control in Weston. We've been in service for over 40 years and are the highest-rated exterminators in Weston. In fact, we are a family-owned and local business, so we know the best ways to get rid of regional-specific pests.
GET A FREE MOSQUITO TREATMENT QUOTE TODAY!
You'll Be Mosquito-Free—We Guarantee It!
We understand how stressful mosquito treatments can be. If you are ever unpleased, our team will come back free of charge to make sure you're satisfied with your pest control care. We also offer our satisfaction guarantee to come back and retreat if needed!
When you partner with us for mosquito control in Weston, you can also expect:
A thorough inspection of your yard to identify all hiding places and breeding grounds.
Treatment with a fogging system to reduce the current mosquito population.
A personalized treatment plan that best meets your needs.
Monthly inspections to insure the mosquitoes are kept at bay.
Same-day service when you call before noon. Your Local Pest Control Experts
Your Local Pest Control Experts
Hoffer Pest Solutions has serviced the Broward, Palm Beach, & Miami-Dade counties since 1975. Whether you're dealing with roaches, rodents, termites, or bed bugs, there's no one better to do the job than your local exterminators at Hoffer! We are proud to offer same day pest control services when you call before noon.
Hoffer Pest Solutions - Coral Springs Office
Mon-Sat: 8AM-5PM Sunday: Closed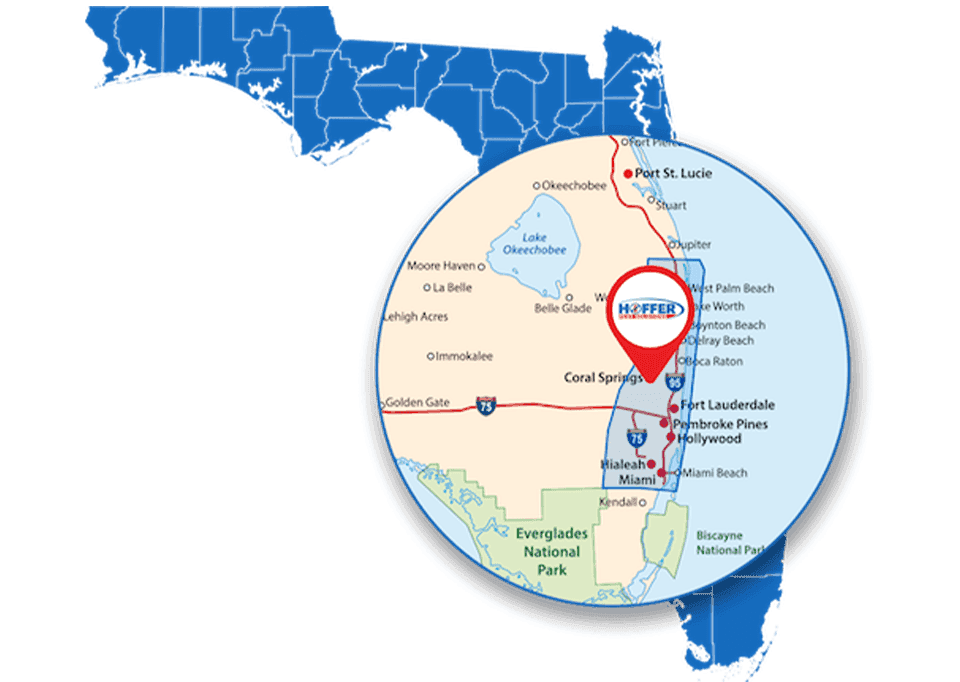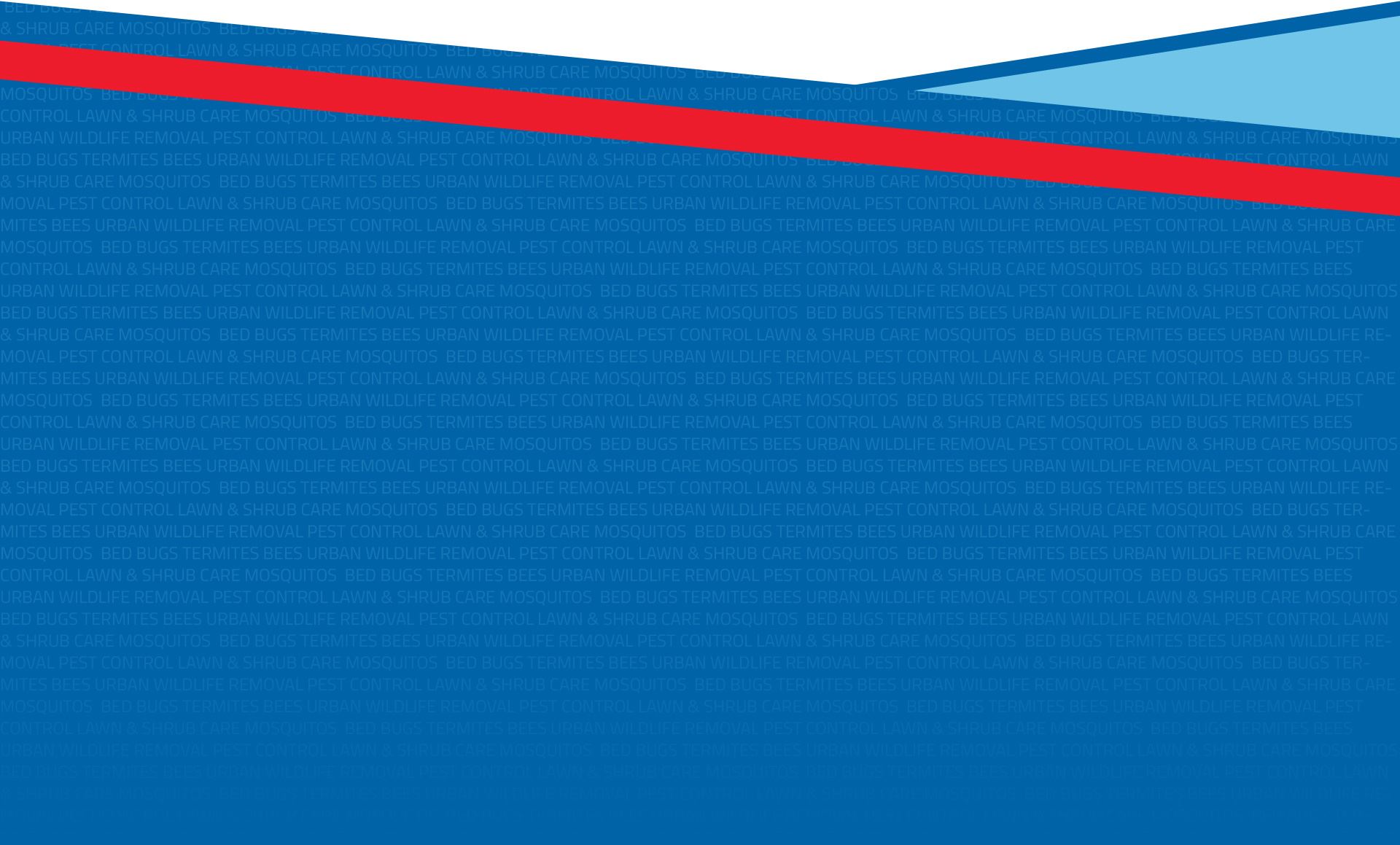 Contact Us Now




Request your free quote today!